IND Update – Engineered Cell Therapy for Parkinson's Disease
By:
Karen O'Hanlon Cohrt - Mar. 3, 2021
In this week's clinical update, we look at the first gene-edited cell therapy for Parkinson's disease to reach IND stage. DA01 is an engineered stem cell-derived dopaminergic neuron therapy for advanced PD.
DA01, which is being developed as an off-the-shelf cell therapy by BlueRock Therapeutics, Massachusetts in collaboration with Memorial Sloan Kettering Cancer Center (MSK), New York, is set to enter a Phase 1 clinical trial for advanced PD following recent IND clearance from the American Food and Drug Administration (FDA).
The new therapy is designed with the intention to replace the midbrain dopaminergic neurons that are lost in PD to reestablish dopamine secretion and thereby restore motor control to patients. If efficacious, this strategy could revolutionise treatment for the >10 million people living with PD worldwide, who currently rely on symptom control and lifestyle changes to manage the symptoms of disease.
Parkinson's Disease
Parkinson's disease (PD) is a devastating and progressive age-related neurodegenerative disease that affects bodily movements, causing tremors and mobility impairment. It is one of the most common neurological diseases with >10 million cases worldwide, and its prevalence is increasing.
Hallmarks of the disease include accumulation of a misfolded form of the α-synuclein protein and loss of dopamine-secreting neurons in a midbrain region called the substantia nigra in the brain. Dopamine is an essential neurotransmitter that is responsible for relaying messages from the brain to the muscles to facilitate planned and controlled body movements, and its loss results in the movement-related symptoms of PD.
Synthetic forms of dopamine precursors or dopamine agonists that mimic the effects of dopamine comprise part of the standard treatment regimen for many PD patients, and although these may be very effective in early stages of disease, most patients become less responsive over time.
DA01 – a cell+gene platform product
DA01 is developed using BlueRocks' proprietary cell+gene platform that combines advanced cell biology and gene-editing technologies that deploy heathly donor cells to develop new off-the-shelf therapies that are not limited by continuously relying on harvested primary cells.
BlueRock Therapeutics announced a strategic research collaboration with Editas Medicine in 2019 to combine their cell and CRISPR technologies, respectively, to develop and produce novel enginereed cell therapies.
Today, BlueRock's engineered cell therapy pipeline encompasses neurology, cardiology and immunology with DA01 as its lead programme.


DA01 is derived from human embryonic stem cells (hESCs), which function as a universal source for virtually any cell type, as long as they are exposed to the right cocktail of growth and differentiation factors.
Gene editing comes into the picture when the stem cells are edited so that they will not be visible to the immune system and evade the immune response, in order to prevent depletion once they are eventually differentiated and transfused into PD patients. The protocol developed to derive authentic midbrain dopamine (mDA) neurons from hESCs was described in a recent publication. DA01 cells are expanded to facilitate the production of off-the-shelf cryopreserved doses for transfusion into PD patients.
Exactly how DA01 cells are gene edited has not been disclosed by BlueRock Therapeutics.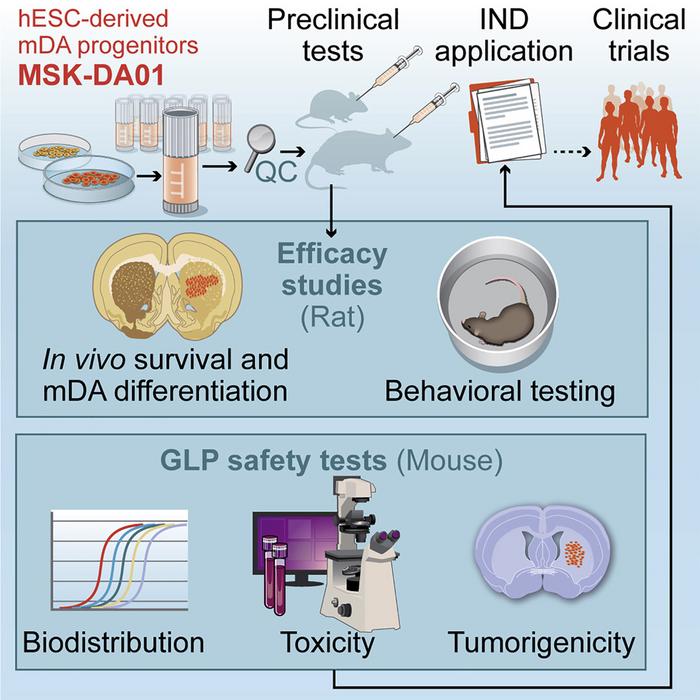 Phase 1 trial for DA01
In preclinical efficacy and safey studies in animals, DA01 cells exhibited survival upon engraftment, secreted increasingly large amounts of dopamine over time and rescued motor deficits in a rat model for PD.
The open-label placebo-controlled Phase 1 trial is planned to enroll ten patients and will take place at the MSK Cancer Center in New York with initial participant screening and performed by Weill Cornell Medicine at Cornell University, New York.
The primary objective of the trial is to assess the safety and tolerability of DA01 cell transplantation at one-year post-transplant. The secondary objectives of the study are to assess the evidence of transplanted cell survival and motor effects at one- and two-years post-transplant, to evaluate continued safety and tolerability at two years, and to assess feasibility of transplantation.
For a complete overview of current gene editing clinical trials, check out CRISPR Medicine News' Clinical Trials Database.
Tags
ArticleNewsex-vivoParkinson'sMemorial Sloan Kettering Cancer Center (MSK)CRISPR-CasBlueRock Therapeutics, LLC.TrialsIND - Investigational New Drug