CMN Markets September 2021 | CRISPR Stocks and Market News
By:
Lasse Vedel Jørgensen and Mikkel Reincke Kristensen - Oct. 7, 2021
The CMN Markets Newsletter will bring you the latest news updates from the stock markets with focus on companies that have clinical-stage programmes involving a gene-editing tool like CRISPR.
Highlights
Verve Therapeutics reports impressive pre-clinical data and announces development of proprietary delivery technology.
Editas Medicine presents preliminary data from ongoing Phase 1/2 clinical trial for EDIT-101 in Leber congenital amaurosis 10 (LCA10).
Intellia Therapeutics receives FDA acceptance of IND application for its NTLA-5001 programme.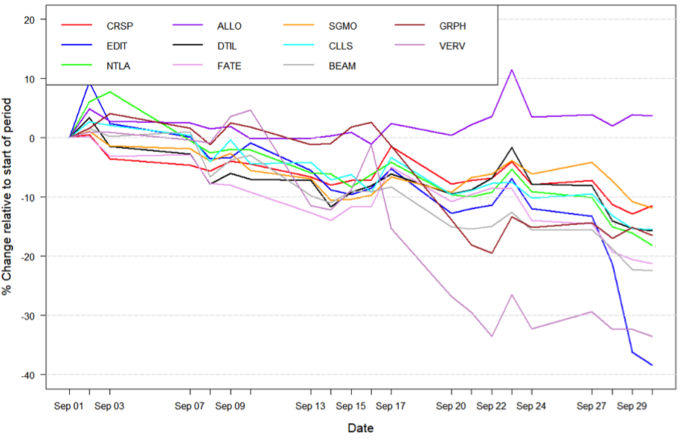 Figure 1: Data on stock performance shown from September 1st to September 30th. Data from Yahoo Finance. Companies: CRISPR Therapeutics (CRSP), Allogene Therapeutics (ALLO), Sangamo Therapeutics (SGMO), Editas Medicine (EDIT), Precision Biosciences (DTIL), Cellectis (CLLS), Intellia Therapeutics (NTLA), Fate Therapeutics (FATE), Beam Therapeutics (BEAM), Verve Therapeutics (VERV), Graphite Bio (GRPH).
Influences from the broader economic trends
In the intra-month period of September, the NASDAQ reached all time historic highs. This trend continued into the middle period of the month, after which a sharp decline occured in global markets. This decline was caused by the fear of impact from the potential collapse of the Chinese real estate conglomerate, Evergrande Group. This potential ripple effect into global markets came in parallel with the announcement that the CBOE volatility index, a fear indicator for stock markets, had risen to the highest level in four months. Jake Dollarhide, the CEO of Longbow Asset Management told Reuters: »Today, the market is down because of the Chinese real estate contagion threat [...] We're due for a correction, every time [the market] goes down 5% or 6%, all this liquidity jumps in to prop us back up«. As noted here, the consensus among some financial experts is that the market is too bullish at the moment, and a correction is to be expected soon. Much in line with the comments from Jake Dollarhide, the market started regaining soon after, and September is closing close to the levels seen before the Evergrande dip.
Data influencing stock movements
Verve Therapeutics reports strong pre-clinical data and delivery technology update
On the 23rd of September, Verve Therapeutics (NASDAQ:VERV) reported strong pre-clinical data on its VERVE-101 programme. The pre-clinical data, which was based on 36 non-human primates (NHPs), showed precise gene editing of the PCSK9 gene for the treatment of heterozygous familial hypercholesterolemia (HeFH), a potentially fatal cardiovascular disease. Not only did the treatment lead to impressive reduction of PCSK9 protein and low-density lipoprotein cholesterol, but the company was also able to report that the treatment showed no off-target editing in 244 potential sites.
On the same day, Verve also announced the development of its proprietary lipid nanoparticle (LNP) delivery technology, based on an internally discovered GalNAc-targeting ligand. The company was able to demonstrate effective delivery of base editors to the liver with its GalNAc-LNP in mouse models. After reporting the data in the pre-market hours, Verve's stock price rose 10.32%, corresponding to a $4.83 increase in stock price.
Editas Medicine reports positive preliminary results from ongoing Phase 1/2 clinical trial of EDIT-101
On September 29th, Editas Medicine (NASDAQ:EDIT) reported positive initial clinical data from its ongoing Phase 1/2 clinical trial of EDIT-101 in Leber congenital amaurosis 10 (LCA10). No serious adverse events or dose-limiting toxicities were reported, with most adverse events (AEs) being mild and primarily resulting from the surgical procedure and subretinal injection. Positive preliminary results were also reported, indicating early improvements to Best Corrected Visual Acuity (BCVA), a measure of the best vision correction that can be achieved, as well as retinal sensitivity.
However, after the data release, the stock price declined more than 19%, followed by additional price drops the next few days.
Precision Biosciences enter into new licensing deals
On September 2nd, Precision Biosciences (NASDAQ:DTIL) announced that it had entered into a license agreement with Tiziana Life Sciences to evaluate conjugated cancer treatments using Precision's allogeneic CAR T-cell candidates alongside Tiziana's monoclonal anti-CD3 antibody. The monoclonal antibody is thought to induce tolerance of Precision's CAR Ts by eliminating intolerant patient effector T cells.
On the 9th September, Precision announced another licensing deal with newly launched iECURE (US). iECURE will license Precision's PCSK9-directed ARCUS meganuclease technology to pursue four gene insertion programmes. In addition, iECURE will also advance Precision's PBGENE-PCSK9 candidate into Phase 1 clinical trials.
Intellia Therapeutics receives FDA acceptance of IND application
On the 16th of September, Intellia Therapeutics (NASDAQ:NTLA) announced FDA acceptance of its IND application for NTLA-5001, the company's CRISPR-Cas9 engineered TCR T-cell programme for the treatment of acute myeloid leukaemia (AML). NTLA-5001 is Intellia's first ex-vivo drug candidate for cancer to enter clinical trials. The company plans to initiate the patient screening process for eligibility to join a Phase 1/2a clinical trial by the end of 2021. The day after releasing the news, Intellia's stock price climbed 7.63%, corresponding to a $11.51 price increase. You can read more about the update here.
Fate Therapeutics release promising pre-clinical data
On September 15th, Fate Therapeutics (NASDAQ:FATE) reported promising pre-clinical data on its FT538 programme. FT538 is an engineered iPSC-derived natural killer (NK) cell therapy for the treatment of acute myeloid leukaemia (AML). Fate was able to show enhanced killing and longer lifetimes of NK cells without cytokine support compared to peripheral blood NK cells. On the day of the announcement, Fate's stock price increased by 3.65%, which corresponds to an increase of $2.34.
Other news
On the 24th of September, Lars Fogh Iversen, Senior Vice President of Global Research Technologies of Novo Nordisk, announced on LinkedIn that Novo Nordisk will create a new technology area called RNA and Gene Therapies. This is promising news for many of the companies featured here. For many years, Novo Nordisk's main focus area has been diabetes, and this disease area has also gained interest from gene-editing focused companies. One of these is CRISPR Therapeutics, which is currently developing a CRISPR-Cas9-edited cell therapy for type 1 diabetes mellitus.
Novo Nordisk also develops therapies for blood and cardiovascular diseases, e.g., a novel PCSK9 inhibitor in Phase I, which is also the target for Verve Therapeutics's lead base-editor programme, VERVE-101. Likewise, Novo develops therapies for both sickle cell disease and haemophilia, two genetic diseases that are also a major focus for gene-editing companies such as Editas Medicine, CRISPR Therapeutics, Intellia Therapeutics, Beam Therapeutics, Graphite Bio and Precision Biosciences. Back in 2019, Novo Nordisk announced that it had entered into a research collaboration with bluebird bio to develop in vivo genome-editing candidates for haemophilia and other severe genetic diseases using bluebird bio's megaTAL gene-editing technology. Thus, with Lars Fogh Iversen's announcement, it is possible that we will see more collaborations like the one with bluebird in the future.
What to look out for in October
Moreover, with the completion of the third quarter of 2021, we are entering into the season of quarterly financial updates which could trigger some movement for the companies featured in this newsletter.
Moreover, on October 20th the annual Synthego World CRISPR Day will be held, where scientists from all over the world will highlight the newest advances within CRISPR technology and its uses in medicine.
Disclaimer: None of the information given above should be considered investment advice. The authors or CRISPR Medicine News cannot be held accountable for any losses associated with investing in the companies discussed.
Tags