Epigenomic Editing Ameliorates Detrimental Effects of Adolescent Alcohol Exposure | Wed. Sept. 28, 2022 | 3:00 pm – 4:30 pm CEST / 9:00 am – 10:30 am EST | Free CMN Live Webinar
On-demand Webinar is available - Follow this link
Epigenomic Editing Ameliorates Detrimental Effects of Adolescent Alcohol Exposure
What will you learn from this webinar:
To provide epigenetic basis of alcohol use disorder
To provide evidence for the long-lasting effects of epigenetic changes and behavioral phenotypes of adolescent alcohol exposure
To provide evidence for the causal epigenetic link to adult psychopathology after adolescent alcohol exposure.
Webinar Programme:
15.00 Welcome and introduction by CRISPR Medicine News
15.05 Subhash C. Pandey, PhD | Epigenomic Editing Ameliorates Detrimental Effects of Adolescent Alcohol Exposure
15.50 Q & A with Subhash C. Pandey
16.25 Close by CRISPR Medicine News
Speaker | Title:
Subhash C. Pandey, PhD, Joseph A. Flaherty, MD Endowed Professor of Psychiatry and Director, Alcohol Research Center, University of Illinois at Chicago, USA | Epigenomic Editing Ameliorates Detrimental Effects of Adolescent Alcohol Exposure
Speakers
Subhash C. Pandey, PhD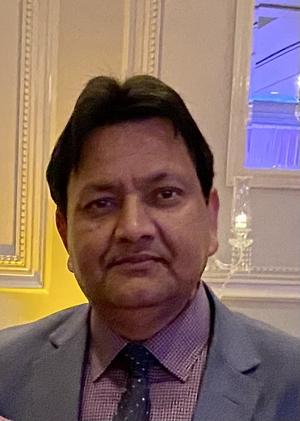 Dr. Subhash Pandey received his MS in biochemistry in 1982 from Allahabad University, India and PhD in Chemistry (Pharmacological & Neurochemical studies) in 1987 from Central Drug Research Institute, a premier research institute of India. He is a Professor of Psychiatry, Anatomy and Cell Biology, and Director of the Alcohol Research Center at the University of Illinois at Chicago. He is also a Senior Research Career Scientist at the Jesse Brown VA Medical Center in Chicago. He was appointed as Joseph A. Flaherty MD, Endowed Professor of Psychiatry in 2020. Dr. Pandey has a distinguished and exemplary career in neuroscience research of alcohol use disorder (AUD), and he is well known for his scientific contributions towards elucidating the molecular and cellular mechanisms of alcohol use and anxiety disorders. Notably, Dr. Pandey has been consistently funded by the NIH since 1996 and by the Department of Veterans Affairs (VA) since 1999. In 2008, he published a landmark research work on epigenetics and AUD in Journal of Neuroscience that launched neuroepigenetics research in AUD. In 2015, he established the NIH-funded Alcohol Research Center entitled, "Center for Alcohol Research in Epigenetics" (CARE) at The University of Illinois at Chicago. This is the only alcohol research center in the United States that is investigating the epigenetic mechanisms of AUD. Further, Dr. Pandey is serving as scientific director for the national consortium on "Neurobiology of Adolescent Drinking in Adulthood" funded by NIH-NIAAA, and his laboratory also performs epigenetic research for this consortium. The UIC Department of Psychiatry has been a member of this NIH consortium led by Dr. Pandey and funded since 2010.
Throughout his career, Dr. Pandey has authored several peer-reviewed high impact research articles in journals such as Science Advances, Molecular Psychiatry, Biological Psychiatry, Translational Psychiatry, Neuropsychopharmacology, Neuropharmacology, Addiction Biology, Journal of Clinical Investigation, Journal of Neuroscience, Alcoholism: Clinical and Experimental Research. He has also authored many reviews, editorial articles, and book chapters in the fields of alcohol addiction and epigenetics. Also, he has trained several pre-and post-doctoral fellows and junior faculty in the field of AUD, and since 2019, he has been the director of an NIH funded T32 Alcohol Research Training Grant in Epigenetics and Pathophysiology. Furthermore, he is an active member of the Research Society on Alcoholism (RSA), International Society for Biomedical Research on Alcoholism (ISBRA), and several other scientific societies, and he was elected a fellow of the Indian Academy of Neurosciences, Collegium Internationale Neuro-psychopharmacologicum (CINP), and American College of Neuropsychopharmacology (ACNP). Dr. Pandey also serves as a field editor for the journal Alcoholism: Clinical and Experimental Research and as an associate editor for the Frontiers in Pharmacology and Advances in Drug and Alcohol Research journal. He edited two volumes of International Review of Neurobiology that are focused on epigenetics.
Dr. Pandey has received a multitude of honors and awards; most notably, he received the 2010 Bowles Lectureship Award for his contribution to AUD research, presented by The University of North Carolina at Chapel Hill. Also, in 2014, he received recognition from the VA as a notable VA biomedical researcher and also, he is a recipient of VA senior research career scientist award since 2015. He was also honored by the UIC-COM with the 2016 "Faculty of the Year" award and University Scholar award in 2020 for his outstanding body of academic work and his reputation as a world leader in the field of epigenetic research in AUD.
Read also our CMN interview with Prof. Pandey from July 2022.
Interested in hosting a webinar on CMN?
Contact us to learn more about our Client Webinar package.
+20k readers | +10k followers | Top-1 CRISPR News Site | sales@crisprmedicinenews.com