Multiplexed Genome Regulation In Vivo With Hyper-Efficient Cas12a | Wed. June 29, 2022 | 3:00 pm – 4:30 pm CEST / 9:00 am – 10:30 am EST | Free CMN Live Webinar
On-demand webinar is available - Follow this link
Multiplexed Genome Regulation In Vivo With Hyper-Efficient Cas12a
The development of CRISPR activation (CRISPRa), CRISPR inhibition (CRISPRi), and epigenome editing (eGE) systems has allowed researchers to regulate the expression of genes rather than creating permanent, heritable edits in the genome. These technologies have opened new doors for therapeutic applications of CRISPR, helping to overcome the hesitancy surrounding permanent editing based on repair of double-stranded breaks (DSBs) in DNA.
In a key development for the field of gene regulation, Lei Stanley Qi's research group at Stanford University has engineered a new Cas12a protein with expanded capabilities. In an article recently published in Nature Cell Biology, the team describes how the new hyperdCas12a variant can regulate the expression of multiple genes at once with high efficiency, including both gene activation and gene repression. With promising results of multiplexed gene activation in mouse retinas, hyperdCas12a has many exciting potential applications, including therapeutics.
What will you learn from this webinar:
The utility of Cas12a (and the "hyperCas12a" variant) for multiplexed gene targeting, compared to Cas9
Designing CRISPR-RNAs (crRNAs) for gene regulation and building a poly-crRNA array
In vivo gene targeting in the mouse retina and disease-relevant applications
Tentative Webinar Programme:
15.00 Welcome and introduction by CRISPR Medicine News
15.05 Lucie Guo, MD PhD, Stanford University, USA | Multiplexed Genome Regulation In Vivo with Hyper-Efficient Cas12a
15.50 Q & A with Lucie Guo
16.25 Close by CRISPR Medicine News
Speaker | Title:
Lucie Guo, MD PhD, Stanford University, USA | Multiplexed Genome Regulation In Vivo with Hyper-Efficient Cas12a
Speakers
Lucie Guo, MD PhD, Stanford University, USA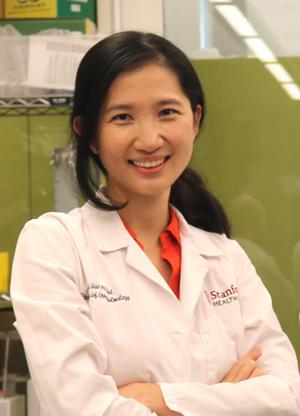 Lucie Guo received her B.A. in Biochemical Sciences from Harvard University and her MD and PhD in Biochemistry and Molecular Biophysics from the University of Pennsylvania. She completed her doctoral studies on chromatin epigenetics in Dr. Ben Black's lab, and she was funded by an NIH F30 individual fellowship. In 2019, she joined the research track of Stanford's Ophthalmology Residency, where she is co-mentored by Dr. Stanley Qi (in the Department of Bioengineering) and Dr. Sui Wang (and other faculty at the Byers Eye Institute) on collaborative projects toward developing new genome-engineering technologies for gene therapy in the eye. This work was awarded a Career Starter grant from the Knights Templar Eye Foundation and a grant from the VitreoRetinal Surgery Foundation, and a Stanford-Coulter Translational Research Grant.
Read our CMN interview with Dr. Guo from April 2022.
Interested in hosting a webinar on CMN?
Contact us to learn more about our Client Webinar package.
+20k readers | +10k followers | Top-1 CRISPR News Site | sales@crisprmedicinenews.com