CMN Markets April 2022 | CRISPR Stocks and Market News
By:
Lasse Vedel Jørgensen and Mikkel Reincke Kristensen - May. 5, 2022
The CMN Markets Newsletter will bring you the latest news updates from the stock markets with focus on companies that have clinical-stage programmes involving a gene-editing tool like CRISPR.
Highlights
Rough month on the stock market impacts biotechnology stocks.
Verve Therapeutics presents pre-clinical data on its base-editing programmes, showing minimal off-target effects.
Editas Medicine doses the world's first paediatric patient with an experimental in vivo CRISPR gene-editing medicine.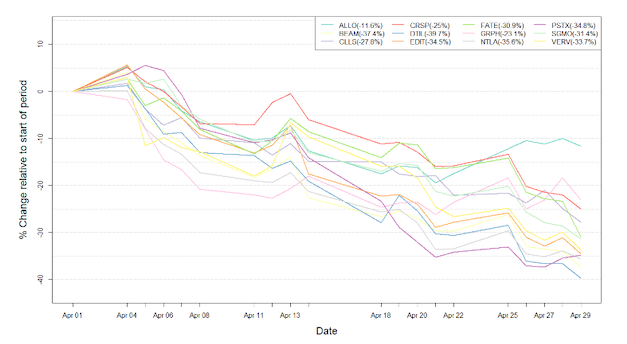 Figure 1: Data on stock performance shown from April 1st to April 30th 2022. Data from Yahoo Finance. Companies: CRISPR Therapeutics (CRSP), Allogene Therapeutics (ALLO), Sangamo Therapeutics (SGMO), Editas Medicine (EDIT), Precision Biosciences (DTIL), Cellectis (CLLS), Intellia Therapeutics (NTLA), Fate Therapeutics (FATE), Beam Therapeutics (BEAM), Verve Therapeutics (VERV), Graphite Bio (GRPH), Poseida Therapeutics (PSTX).
Influences from the broader economic trends
The indices fluctuated wildly throughout the month of April. Renewed fears of a hawkish Federal Reserve, due to continually rising inflation on the back of the COVID-19 pandemic and the Russian invasion of Ukraine caused investors to flee the market. These fears have had an especially strong impact on the tech indices, herein biotech, as is also reflected in Figure 1, which tracks the development for stock prices for gene-editing companies over the past month. The NASDAQ Composite Index experienced its worst drop since the financial crisis hit in 2008, with a 13.3% drop in April alone. The tech stock slump seems to also be affected by the disappointing earnings or outlooks of major tech companies including Google and Amazon. Quincy Krosby, Chief Equity Strategist for LPL Financial spoke on the matter saying: »When you start to hear from companies saying that perhaps demand is down, the concerns over a deeper slowdown in the economy gain momentum, and that's where we are.« When viewing the graph of the NASDAQ Biotechnology Index, showing a >11% decline in April, it is clear to see that biotechnology companies have also been hit hard by these tribulations.
Data influencing stock movements
Verve Therapeutics presents new pre-clinical data on lead programmes
On April 4th, Verve Therapeutics (NASDAQ:VERV) reported new pre-clinical data from its two lead base-editing programmes, targeting the PCSK9 (VERVE-101) and ANGPTL3 genes, respectively. The company reported a 96% reduction from base-line in blood ANGPTL3 protein in four non-human primates (NHPs). This was achieved at a follow-up time of 616 days. The ANGPTL3 base editor is indicated for treating homozygous familial hypercholesterolemia (HoFH), which is a rare genetic subtype of atherosclerotic cardiovascular disease (ASCVD). The company also showed that sequential dosing of its PCSK9 and ANGPTL3 base editors was well tolerated in NHPs.
Furthermore, on April 26th, Verve presented an analysis of off-targeting risks associated with treatment with VERVE-101. The company found minimal to no off-target activity in multiple different human cell types following treatment.
Allogene reports new pre-clinical data
On April 4th, Allogene Therapeutics (NASDAQ:ALLO) reported new pre-clinical data from its ALLO-316 programme, an allogeneic CAR-T cell therapy targeting CD70 for the treatment of solid and haematological cancers. The data was reported at the American Association of Cancer Research (AACR) annual meeting. The company reported that it was able to generate the CAR-T cells to avoid fractricide and with limited off-target binding. ALLO-316 received a Fast Track Designation from the American FDA back in March.
Cellectis presents new data and announces Nature Communications publications
On April 8thCellectis (NASDAQ:CLLS) presented new pre-clinical data on its dual CAR T-cell product candidate, UCART20x22 at AACR. The company was able to show that its drug candidate produced a strong POC both in vitro and in vivo pre-clinical settings. UCART20x22 is being designed and developed using a TALEN-based platform, and the company is investigating the drug candidate in relapsed or refractory Non-Hodgkin Lymphoma (NHL) expressing either a single antigen, CD20 or CD22, or both. Cellectis has noted that the company plans to file for IND later this year.
Additionally, the company announced the publication of two research articles in Nature Communications, featuring pre-clinical data detailing Cellectis' drug candidate UCART123, showing cytotoxic activity against primary acute myeloid leukaemia (AML) samples with minimum toxicity against normal haematopoietic progenitor cells. UCART123 was able to effectively eliminate AML in in vivo studies using patient-derived xenograft models. The study is currently being evaluated in a Phase 1 dose escalating study.
Caribou presents data at AACR
Caribou Biosciences (NASDAQ:CRBU) presented positive pre-clinical data for its allogeneic anti-BCMA CAR-T cell therapy candidate, CB-011, on April 8th. CB-011 is being developed as a treatment for relapsed or refractory multiple myeloma. The drug candidate is immune-cloaked, meaning that it is able to evade killing by T cells or natural killer (NK) cells, allowing the treatment to outperform conventional CAR T-cell therapies, and showing prolonged anti-tumour effects. CB-011 is Caribou's second allogeneic cell therapy candidate.
Editas provides data on its iNK programme and doses first paediatric patient
On April 8thEditas Medicine (NASDAQ:EDIT) announced pre-clinical data on its engineered iNK drug candidate in solid tumours. The programme is based on modified induced pluripotent stem cell (iPSC)-derived NK cells and is being evaluated in in vitro and in vivo studies. The iNK cell therapy, in combination with trastuzumab, resulted in complete tumour clearance in six of eight treated mice.
On April 11th Editas announced that the company had dosed the first paediatric patient in its BRILLIANCE clinical trial of its lead candidate EDIT-101 in Leber congenital amaurosis 10, a disease causing blindness. This is the first-ever in vivo dosing of a paediatric patient with a CRISPR-based gene-editing experimental medicine. Read more about this news in our recent clinical trial update.
Shortly after dosing the first paediatric patient with EDIT-101, Editas received the rare paediatric disease designation (RPDD) for EDIT-301 for the treatment of beta thalassemia from the FDA. The FDA has previously granted the RPDD for EDIT-301 for the treatment of sickle cell disease. Editas plans to dose the first patient with EDIT-301 in beta thalassemia this year.
What to look out for in May
During May, most of the companies covered in this newsletter will present financial results from the first quarter (Q1) of 2022 and give a corporate update, which will shed light on the pipeline development and progress, as well as important metrics such as cash burn and current cash position. Furthermore, the American Society of Gene & Cell Therapy (ASGCT) annual meeting takes place between the 16th and the 19th of May, with companies such as Beam Therapeutics, Intellia Therapeutics and Graphite Bio set to present new pre-clinical data on gene-editing programmes.
Disclaimer: None of the information given above should be considered investment advice. The authors or CRISPR Medicine News cannot be held accountable for any losses associated with investing in the companies discussed.
Tags
ArticleNewsCMN MarketsAllogene Therapeutics, Inc.Caribou Biosciences, Inc.Cellectis S.A.Graphite Bio, Inc.Intellia Therapeutics, Inc.Poseida TherapeuticsPrecision BioSciences, Inc.Verve Therapeutics, Inc.