Clinical update: FDA Upgrades Status for Two Gene-Edited Cancer Therapies
By:
Karen O'Hanlon Cohrt - Mar. 16, 2022
ALLO-316 gets Fast Track Designation for renal cell carcinoma
Allogene Therapeutics announced last week that the U.S. FDA had granted Fast Track Designation for its first solid tumour candidate, ALLO-316, for the treatment of renal cell carcinoma (RCC) in patients where standard therapies have failed.
The FDA's Fast track process is designed to facilitate the development and speed up the review of certain drugs to treat serious conditions and fill unmet medical needs.
ALLO-316 is a clinical-stage anti-CD70 AlloCAR T™ candidate that is being developed for RCC as well as several haematological cancers that express the cell-surface antigen CD70. CD70 expression is limited in healthy tissues.
ALLO-316 is allogeneic, i.e., it is generated in vitro from healthy donor T cells. Following isolation from donors, T cells are transduced with a lentivirus that harbours a CD70-targeting CAR. To mitigate the risk of graft-vs-host disease, the T cell receptor (TCR) locus, TRAC, in the donor-derived cells is disrupted using Cellectis' TALEN® gene-editing technology under licence.
The CD52-encoding gene is also TALEN-disrupted in ALLO-316. This is a common feature for allogeneic CAR-T cell therapies, in which an anti-CD52 antibody is administered prior to CAR-T cell therapy to suppress the patient's immune system and allow the CAR-T cells to stay engrafted for full therapeutic effect. CD52 disruption renders the CAR-T cells resistant to this treatment.
ALLO-316 is currently being evaluated in the ongoing multi-center TRAVERSE Phase 1 clinical trial for safety, efficacy, and cell kinetics in adults with advanced or metastatic clear cell renal cell carcinoma. The trial is expected to enrol 120 adult participants, who will each receive a single dose of intravenously adminstered ALLO-316 after a lymphodepletion regimen comprising fludarabine, cyclophosphamide, and Allogene's CD52 monoclonal antibody, ALLO-647.
Allogene presented positive pre-clinical data for ALLO-316 in models of acute myeloid leukaemia (AML) at a previous American Hematology Society annual meeting. You can read a summary of those findings in our earlier clinical update here. No clinical data has been shared for ALLO-316 as of yet. We will provide updates as they emerge.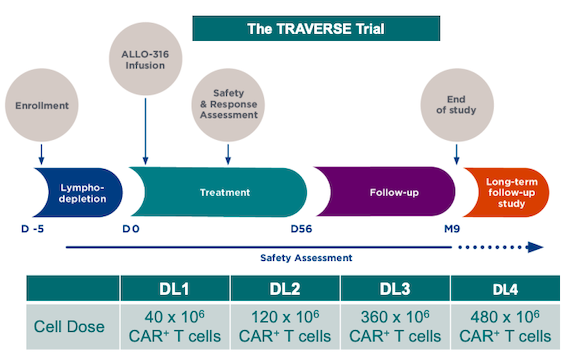 NTLA-5001 gets Orphan Drug Designation for acute myeloid leukaemia
Two weeks ago, Intellia Therapeutics announced that the first patient had been dosed with NTLA-5001 in a Phase 1/2a clinical trial for acute myeloid leukaemia (AML). Last week, the company announced that the FDA had granted Orphan Drug Designation to NTLA-5001 for AML treatment.
NTLA-5001 is Intellia's first ex vivo CRISPR therapy candidate for cancer to approach the clinic. It is an autologous therapy, i.e., it is developed using a patient's own T cells. NTLA-5001 is designed to target the Wilm's tumour (WT1) antigen which is over-expressed in AML and many other tumour types, and it is expected to be effective against all genetic subtypes of AML. You can read more about NTLA-5001 in our most recent clinical trial update here.
The FDA's Orphan Drug Designation programme provides orphan status to drugs that are defined as being intended for the treatment, diagnosis or prevention of rare diseases that affect fewer than 200,000 people in the U.S. The designation qualifies the sponsor of the drug, in this case, Intellia Therapeutics, for certain development incentives that may include tax credits for qualified clinical testing, waivering of prescription drug user fees, or seven-year marketing exclusivity upon FDA marketing authorisation approval.
We strive to bring you all the clinical updates for gene-edited therapies. For a complete overview of current gene-editing clinical therapeutic trials as well as diagnostic trials, check out CRISPR Medicine News' Clinical Trials Database.
To get more of the CRISPR Medicine News delivered to your inbox, sign up to the free weekly CMN Newsletter here.
Tags
ArticleNewsClinical News Updatesin vivoLipid-based nanoparticleViralAdeno-associated virus (AAV)Acute Myeloid Leukemia, AMLRenal Cell CarcinomaSolid Tumor AdultSolid TumoursCAR-TCRISPR-CasCas9TALENsFDAAllogene Therapeutics, Inc.Cellectis S.A.Intellia Therapeutics, Inc.