CMN Markets May 2021 (open access edition)
By:
Lasse Vedel Jørgensen and Mikkel Reincke Kristensen - Jun. 3, 2021
The CMN Markets Newsletter will bring you the latest news updates from the stock markets with focus on companies that have clinical-stage programmes involving a gene-editing tool like CRISPR.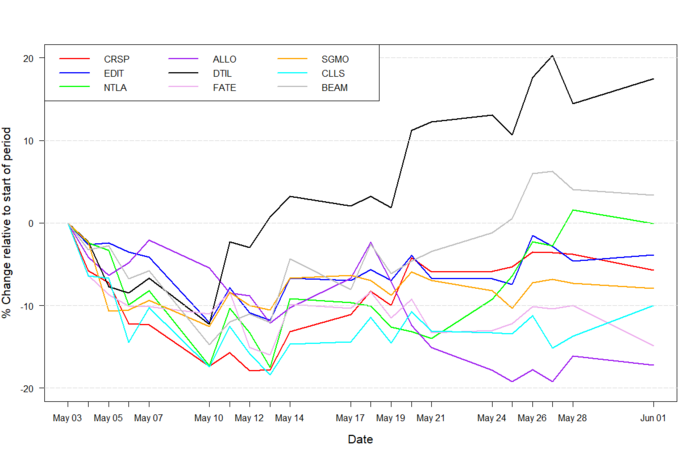 Figure 1: Data on stock performance shown from May 1st to June 1st. Data from Yahoo Finance. Companies: CRISPR Therapeutics (CRSP), Allogene Therapeutics (Allo), Sangamo Therapeutics (SGMO), Editas Medicine (EDIT), Precision Biosciences (DTIL), Cellectis (CLLS), Intellia Therapeutics (NTLA), Fate Therapeutics (FATE), Beam Therapeutics (BEAM).
Influences from the broader economic trends
In early May, inflation reports showed that inflation was higher than expected. At the annual Berkshire Hathaway meeting, Warren Buffett reported seeing "very substantial inflation" from suppliers. As reported by CNBC, inflation "could weigh on stocks as inflation erodes the value of future company profits". Biotech stock prices dropped fairly consistently from May 1st until May 13th where the Nasdaq Biotech index fell to lows matching November 2020.
On May 12th U.S. consumer price data from April showed the highest rise in prices since 2009. Brian Vendig, the president of MJP Wealth Advisors told Reuters: "The uncertainty over the path of [interest] rates and inflation is making investors reconsider their portfolios, especially in technology stocks", reiterating the influence that rising inflation has on technology stocks, in which biotech companies are included. Additionally, David Kelly, the chief global strategist at JP Morgan Asset Management spoke on inflation, saying: "higher inflation may be stickier than the Fed expects". Despite the grim outlooks from the first half of May, biotech seems to be slowly regaining traction as can be seen in Figure 1.
American Society of Gene and Cell Therapy annual meeting
The American Society of Gene and Cell Therapy (ASGCT) annual meeting took place virtually from May 11th to May 14th. Many larger gene-editing companies presented their data readouts with positive results. Beam Therapeutics (NASDAQ:BEAM) posted an update on its proprietary lipid nanoparticle (LNP) formulation, showing efficient in vivo base editing in non-human primates. In the same report, BEAM gave an update on their plans to submit an IND on the BEAM-101 programme and initiate IND-enabling studies for their BEAM-102 and BEAM-201 programmes.
On May 11th Precision presented positive updates on the use of their ARCUS platform for one time gene-editing treatments. The company develops the ARCUS system to treat transthyretin amyloidosis by knock-out of the transthyretin gene, delivered by an adeno-associated viral (AAV) vector. The Precision Biosciences (NASDAQ:DTIL) stock has had an impressive month, with the highest gain out of all the stocks represented in the CMN Markets graph (Figure 1).
Company data driving stock prices
Verve Therapeutics demonstrates preclinical proof-of-concept with support from Beam Therapeutics
On May 19th, Verve Therapeutics, with support from Beam Therapeutics, announced proof-of-concept data on its base-editing approach for the treatment of cardiovascular disease. The data was published in the highly profiled journal, Nature. The CRISPR base editor was administered using a LNP formulation to non-human primates. The company observed a near complete knockdown of the PCSK9 gene in the liver and observed subsequent reduction of PCSK9 protein and low-density-lipoprotein cholesterol of 90% and 60% reduction, respectively. In addition, the effects of the treatment lasted for 8 months after administration of a single dose. Though the data did not trigger a noticeable rise in the BEAM stock, it serves as a promising proof-of-concept of Verve's base-editing technology.
Fate Therapeutics publishes new CAR-NK data
Fate therapeutics (NASDAQ:FATE) announced encouraging data on its Phase 1 iPSC-derived NK-cells, in the after hours of the stock market. For the FT538 drug, three patients are being treated in the first dose escalation cohort. Of these three patients, one achieved objective response with complete leukaemic blast clearance in the bone marrow. None of the treatments showed dose-limiting toxicity or cytokine release syndrome (CRS). On the first trading day after Fate released its Phase 1 data, its stock increased by 14% at its highest from $68.98 to $78.68.
Allogene Therapeutics with new allogeneic CAR-T data
On May 19th, Allogene Therapeutics (NASDAQ:ALLO) reported updated interim data for its ALLO-501/ALLO-501A CAR-T programmes. These data will be presented at the American Society of Clinical Oncology (ASCO) annual meeting in June. The presented data set is one of the most comprehensive for an allogeneic CAR-T programme. ALLO-501, a CD19-targeting CAR-T programme with T-cell receptor (TCR) and CD52 knock-out demonstrated an overall response rate (ORR) of 75%, with a complete response (CR) rate of 50%. No graft-vs-host disease (GvHD) was observed, with only low rates of neurotoxicity and cytokine release syndrome. ALLO-501A was reported to have a similar safety and efficacy profile. Allogene now plans to initiate pivotal trials for ALLO-501A, which are planned for late 2021.
Although this data initially gave a boost to the stock price, it has since declined and the ALLO stock price has fallen below the 6-months low.
Precision Biosciences gives an update on its CD19-targeting CAR-T programme
On May 19th, Precision Biosciencesreported new interim data on its first generation allogeneic CD19-targeting CAR-T candidate. The data was highlighted in this abstract for presentation at the ASCO conference in June. Here, they reported an ORR of 77% and a CR of 54%, and only mild CRS and neurotoxicity were observed.
The market day after announcing the presentation and releasing the abstract, Precision stock rose by 11.5% at its highest from $9.36 to $10.44. This rise in stock price continued consistently throughout the rest of the month of May.
New deals driving stock prices
CRISPR Therapeutics and NKarta Therapeutics
On May 1st, CRISPR Therapeutics (NASDAQ:CRSP) and Nkarta Therapeutics (NASDAQ:NKTX) announced a collaboration to co-develop and co-commercialise two chimeric antigen receptor (CAR) NK-cell therapies. One of these will target CD70 and the other product candidate will be a combination of NK and T cells, with the target yet to be disclosed. While the collaboration is the first of its kind for CRISPR Therapeutics, other companies have looked into the possibility of genetically engineering NK cells, with Fate Therapeutics in the forefront and Editas Medicine developing preclinical programmes together with BlueRock Therapeutics. The programmes from Fate Therapeutics are also briefly described here.
What to look out for in June
The American Society of Clinical Oncology annual meeting
Between June 4th - June 8th, the American Society of Clinical Oncology (ASCO) annual meeting will be held as a virtual conference. The highly profiled conference will highlight the latest developments in clinical oncology, with presentations from Allogene Therapeutics and Precision Biosciences, as outlined above, as well as others.
Furthermore, CRISPR Therapeutics will further update on its CAR-T programmes. CRISPR Therapeutics will provide an update on its CTX110 programme, an allogeneic gene-edited CD19-targeting CAR T-cell program. The programme is being developed for the treatment of diffuse large B-cell lymphoma (DLBCL) and is currently being tested in a Phase I clinical trial.
The European Hematology Association annual meeting
Another big conference that will take place in June is The European Hematology Association (EHA) annual meeting, which will be held virtually from June 9th to June 17th. As well as other highly profiled participants, CRISPR Therapeutics and Vertex Pharmaceuticals will present new clinical data from its CTX001 programme, which is being developed for the treatment of sickle cell disease and beta thalassemia.
Initial public offering for Verve Therapeutics
On May 28th, Verve Therapeutics filed an SEC to raise up to $100 million in an initial public offering. As a result of this, it is likely that they will be trading publicly for the first time in June. Verve is developing multiple base-editing programmes for the treatment of genetic cardiovascular diseases.
Disclaimer: None of the information given above should be considered investment advice. The authors or CRISPR Medicine News cannot be held accountable for any losses associated with investing in the companies discussed.
Tags
CMN MarketsAllogene Therapeutics, Inc.Beam Therapeutics Inc.Cellectis S.A.CRISPR Therapeutics AGEditas Medicine, Inc.Fate Therapeutics, Inc.Intellia Therapeutics, Inc.NKarta TherapeuticsPrecision BioSciences, Inc.Sangamo Therapeutics Inc.Verve Therapeutics, Inc.