Clinical Trial Update: Positive Data for First Ever In Vivo CRISPR Medicine
By:
Karen O'Hanlon Cohrt - Jun. 30, 2021
Intellia Therapeutics (Cambridge, MA) and Regeneron (New York) announced positive data from an ongoing Phase 1 trial for their lead in vivo genome-editing candidate NTLA-2001, which is being developed as a single-dose treatment for hereditary transthyretin (TTR) amyloidosis with polyneuropathy (ATTRv-PN).
The data was announced during an oral presentation at the 2021 Peripheral Nerve Society (PNS) Annual Meeting and summarised in a company press release.
NTLA-2001 is delivery systemically to target the liver
NTLA-2001 is the first ever CRISPR-Cas9-based precision genome-editing therapy to be administered systemically to humans via intravenous infusion (IV). NTLA-2001 is designed to selectively reduce the concentration of transthyretin (TTR) protein in serum through CRISPR-based inactivation of the TTR gene in liver cells.
In ATTR amyloidosis, misfolded TTR accumulates as amyloid fibrils in tissues throughout the body and causes complications primarily involving the heart and nerves that are often fatal.
NTLA-2001 comprises a TTR-targeting gRNA and Cas9 mRNA, both of which are delivered systemically to target the liver using Intellia's proprietary lipid nanoparticle (LNP) delivery technology. After IV adminstration of NTLA-2001, the LNPs are opsonised by apolipoprotein E and transported through the bloodstream directly to the liver. Apolipoprotein E acts as a liver-targeting ligand due to overexpression of the low density lipoprotein receptor on hepatocytes. A full description of the mechanism of action was published in The New England Journal of Medicine.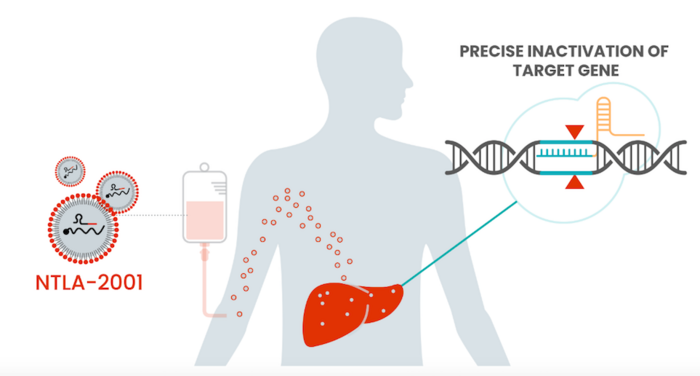 First systemic in vivo CRISPR therapy demonstrates efficacy
The new Phase 1 data covers the first 6 ATTRv-PN patients across two single-ascending dose cohorts, which are currently ongoing at two test sites in New Zealand and the UK. These patients were treated by a single IV injection with either 0.1 mg/kg or 0.3mg/kg of NTLA-2001 and reductions in serum TTR levels were measured from baseline (i.e. the patients' natural levels before treatment) until Day 28 post-treatment.
In all 6 patients, reductions in TTR levels were observed, with mean reductions of 52 % and 87 % among the lower and higher dose groups, respectively. One patient in the higher dose group exhibited a 96 % reduction in TTR levels at Day 28.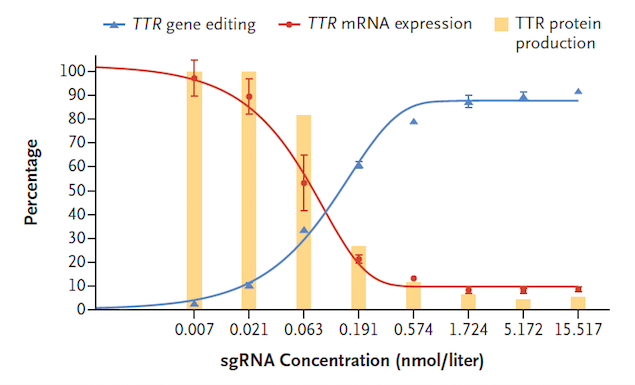 NTLA-2001 is well tolerated so far
In the 6 patients included in the Phase 1 data update, NTLA-2001 was well tolerated with no serious adverse events and no liver findings by Day 28. Given the promising safety profile so far and the observed dose-responsive reduction in TTR levels the sponsors will continue to evaluate dose escalation for NTLA-2001 to determine if a higher dose will ensure even further TTR reduction and greater clinical benefit.
During the data announcement, the sponsors disclosed that enrolment was ongoing for cohort 3, which will be dosed with NTLA-2001 at 1 mg/kg. Pre-clinical studies support the notion that NTLA-2001 has potential as a one-time curative treatment. The study is expected to be complete in 2024.
For a complete overview of current gene editing clinical therapeutic trials as well as diagnostic trials, check out CRISPR Medicine News' Clinical Trials Database.
Transthyretin (TTR) amyloidosis (ATTR)
ATTR amyloidosis is an incurable hereditary progressive condition that is characterised by an accumulation of misfolded transthyretin (TTR) protein. The disease can result from more than 100 different mutation(s) in the TTR gene, leading to mutant TRR protein that is unstable and easily forms aggregates that deposit as amyloid in various organs and tissues in the body. Organs or body parts most often affected include the nerves, heart, kidneys and eyes. The normal function of TTR is limited to thyroxine and vitamin A transport, and knockdown was previously shown to have limited physiological effects in mice.
The disease has an autosomal dominant pattern of inheritance and it estimated to affect about 50,000 people worldwide. Life expectancy is typically 2-17 years from disease onset depending on which organs are affected.
Current treatment options include RNA interference-based drugs, e.g., patisiran, transplantation of affected organs and medications to slow progression of disease symptoms.
Tags
ArticleNewsIn vivoNon-viralLipid-based nanoparticleTransthyretin amyloidosis, ATTRRare DiseaseCRISPR-CasCas9Intellia Therapeutics, Inc.TrialsClinical