Clinical Trial Update: Positive Results for Gene-Edited Therapies for Cancer and Blood Disease
By:
Karen O'Hanlon Cohrt - Jun. 22, 2022
The European Hematology Association (EHA) 2022 Hybrid Congress (EHA2022) was held recently in Vienna, Austria (June 9th-17th 2022). The event is organised to promote the dissemination of cutting-edge evidence-based approaches to diagnosis and treatment, anticipicated clinical and translational research data, and the latest advances in innovative techniques, diagnostic tools, and risk-assessment strategies.
Among this year's presentations were updates from several companies working in the therapeutic gene-editing space, with clinical news from Caribou Biosciences, CRISPR Therapeutics and Vertex Pharmaceuticals. We summarise these updates here.
First patient treated in Caribou's ANTLER trial for non-Hodgkin lymphoma remained in complete response at 12-month evaluation
On May 12th 2022, Caribou Biosciences announced positive initial clinical trial data for its gene-edited CAR-T cell therapy candidate CB-010, which is being evaluated in the ANTLER Phase 1 trial for the treatment of relapsed/refractory B cell non-Hodgkin lymphoma (r/r B-NHL).
CB-010 is designed as an off-the-shelf allogeneic anti-CD19 CAR-T cell therapy, and data released in May revealed a 100% overall response rate (ORR, 5 of 5 patients) and an 80% complete response rate (CR, 4 of 5 patients), following a single dose at the initial dose level in patients with aggressive r/r B-NHL. This data makes CB-010 the first allogeneic CAR-T cell therapy to achieve 100% ORR. You can read more about that data release in our recent ANTLER clinical trial update here.
At EHA2022, Caribou presented additional clinical data that was received after May 13th 2022, which revealed that the first patient treated in the ANTLER trial remained in CR at their 12-month evaluation.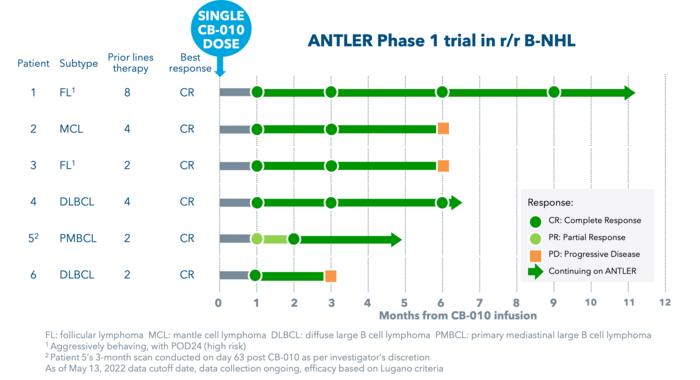 Based on promising initial safety and efficacy data from cohort 1 at dose level 1 (40x106 CAR-T cells), the ANTLER trial is now enrolling patients in cohort 2 at dose level 2 (80x106 CAR-T cells). Additional data are expected by year end. The trial, which aims to enrol 50 adult participants, has an anticipated primary completion date in August 2025.
CB-010 developed from CRISPR-edited healthy donor T cells
CB-010 is Caribou's most advanced cell therapy candidate and is derived from healthy donor T cells that are genome-edited using the company's next-generation CRISPR-Cas technology that is based on CRISPR hybrid RNA-DNA (chRDNAs).
Specfically, a CD19-specific CAR is inserted into the TRAC gene, which encodes the T cell receptor alpha constant. The PD-1 gene is also deleted in these cells. This gene encodes the PD-1 protein that functions as a safety switch on T cells that cancer cells turn on to protect themselves from T cell-mediated immune responses.
CB-010 is the first allogeneic CAR-T cell therapy with a CRISPR-mediated PD-1 deletion to be cleared for a clinical trial.
CRISPR Therapeutics presents positive Phase 1 data for CTX130 in T cell malignancies
CRISPR Therapeutics is developing CTX130 for the treatment of relapsed or refractory T or B cell cancers, including certain lymphomas, as well as renal cell carcinoma (RCC). The candidate is currently being assessed in two Phase 1 clinical trials: the COBALT™-LYM trial for T or B cell cancers and a trial for safety and efficacy of several dose levels in RCC.
At EHA2022, the company presented positive clinical results from the ongoing COBALT™-LYM trial, which is evaluating the safety and efficacy of CTX130 in adults with relapsed or refractory T or B cell malignancies.
As of April 26th 2022, 19 patients with T cell malignancies had been enroled in the trial, of which 18 had received CTX130 with at least 28 days follow-up and are included in the present update. Prior to enrolment, all patients had been heavily treated for their disease, and all were non-responsive to their last line of therapy.
Dose escalation of CTX130 was performed in eligible adults who had at least 10% expression of CD70. Patients who received prior treatment with any CD70-targeting agents were not eligible.
Patients received three days of lymphodepleting chemotherapy followed by a single CTX130 infusion. Patients completed screening in as few as five days, and the median time from enrolment to the start of lymphodepleting chemotherapy was only three days. This timeline was aided by the availability of CTX130 at the clinical site before a patient is enroled, and it allowed patients who showed clinical benefit from the first CTX130 infusion to be re-dosed following disease progression.
Overall, the company reported a 70% ORR and 30% CR rate in peripheral T cell lymphoma and cutaneous T cell lymphoma at dose Level 3 (DL3) and above, which translated to a clinical benefit for 90% of patients treated with CTX130. The candidate was well tolerated across all dose levels, and a summary of adverse events observed for all evaluable patients can be found in the company's recent press release.
The primary endpoints include safety as measured by the incidence of dose limiting toxicities (DLTs) and overall response rate (ORR). Key secondary endpoints include progression free survival (PFS) and overall survival (OS).
CTX130 is a CRISPR-Cas9-edited donor T cell therapy that targets CD70
CTX130 is an allogeneic CAR-T cell therapy candidate designed to target the cell-surface antigen CD70. It is developed solely by CRISPR Therapeutics using T cells from healthy donors that undergo several ex vivo CRISPR-Cas9 modifications to make the product suitable for off-the-shelf CAR-T cell therapy.
Firstly, CRISPR-Cas9 is used to engineer the CAR that allows the CTX130 cells to target and kill CD70-expressing cells. CRISPR-Cas9 is also used to insert the anti-CD70 CAR construct precisely into the TRAC locus. This move disrupts the native TCR, thus mitigating the risk of graft-vs-host disease (GVHD) that may otherwise result from histo-incompatibility between a donor and recipient. This edit also places the CAR under endogenous TCR regulation. CRISPR-Cas9 is further used to eliminate the class I major histocompatibility complex (MHC I) expressed on the surface of the CTX130 cells. This edit alleviates the risk of the patient rejecting the CAR-T product via MHC I, thus increasing the likelihood of the therapy persisting in the patient's blood.
CTX130 has received Orphan Drug Designation from the FDA for the treatment of T-cell lymphoma.
Vertex and CRISPR Therapeutics share additional data supporting curative potential for exa-cel in haematoglobinopathies
Vertex Pharmaceuticals and CRISPR Therapeutics are co-developing exa-cel (formerly known as CTX001) as a one-time curative treatment for severe sickle cell disease (SCD) and blood transfusion-dependent beta-thalassemia (TDT), two distinct inherited blood disorders that arise from genetic defects in the oxygen-carrier haemoglobin.
At the recent EHA congress, the companies announced new clinical data for exa-cel from the ongoing CLIMB-111 (safety and efficacy in TDT), CLIMB-121 (safety and efficacy in SCD) and CLIMB-131 (long-term follow-up study for patients receiving exa-cel) trials. The data support the curative potential of exa-cel for people with TDT or severe SCD.
Overall, clinical data obtained from 75 patients with TDT (n = 44) or severe SCD (n = 31) with follow-up times ranging from 1.2 to 37.2 months after dosing continue to demonstrate that exa-cel has the potential to be a one-time functional cure.
Forty-two of the 44 TDT patients were transfusion-free following the aforementioned follow-up period after exa-cel infusion, while the other two TDT patients, who were not yet transfusion-free, had 75% and 89% reductions in transfusion volume. TDT patients had substantial mean increases in foetal hemoglobin (HbF) and corresponding increases in mean total hoemoglobin (Hb) with mean total Hb levels increasing to >11 g/dL by Month 3 and maintained thereafter.
All 31 severe SCD patients whose disease involves recurrent vaso-occlusive crises (VOCs) were free of VOCs after exa-cel infusion through duration of follow-up, which ranged from 2.0 to 32.3 months. VOCs are the most commonly encountered complication in severe SCD, and these occur when small blood vessels get blocked because of sickled red blood cells which tend to be stiffer than healthy cells. SCD patients also had mean HbF (as a proportion of total Hb) of approximately 40% by Month 4 and maintained thereafter.
Safety data for exa-cel collected to date are generally consistent with myeloablative conditioning and autologous stem cell transplant. Additional details on the clinical efficacy and safety data for exa-cel, as well as plans for paediatric testing, can be found in the company's press release.
CRISPR-edited autologous haematopoietic stem cells activated to produce foetal haemoglobin
Exa-cel is an autologous, ex vivo cell therapy that is made from patient's own haematopoietic stem cells. The stem cells are first collected from a patient's blood, and CRISPR-Cas9 is then used to make a small deletion in the B-cell lymphoma/leukaemia 11A (BCL11A) gene within the genome of these cells.
BCL11A is a negative regulator of HbF expression, thus its disruption increases HbF levels, and this is expected to lessen the clinical symptoms of beta-thalassemia and SCD. The patients are given chemotherapy to eradicate their diseased cells, and the BCL11A-knockout stem cells are then infused back in to establish a permanent supply of healthy red blood cells that can produce HbF.
Exa-cel is the most advanced clinical-stage gene-editing candidate for SCD and beta thalassemia to date, and it has so far been granted Regenerative Medicine Advanced Therapy (RMAT), Fast Track, Orphan Drug, and Rare Pediatric Disease designations from the U.S. Food and Drug Administration (FDA) for TDT and SCD, as well as Orphan Drug Designation from the European Commission, and Priority Medicines (PRIME) designation from the European Medicines Agency (EMA), for both TDT and SCD.
You can read more about the therapeutic strategy behind exa-cel and previous clinical data here.
Related CRISPR Medicine News articles
Gene-Editing Clinical Trials for Beta Thalassemia - an overview of all ongoing gene-editing trials for beta thalassemia
Disease Roundup: Sickle Cell Disease and CRISPR - an overview of all ongoing gene-editing trials for sickle cell disease
For a complete overview of current gene editing clinical trials, check out CRISPR Medicine News' Clinical Trials Database.
To get more of the CRISPR Medicine News delivered to your inbox, sign up to the free weekly CMN Newsletter here.
Tags
ArticleNewsClinical News UpdatesCaribou Biosciences, Inc.CRISPR Therapeutics AGVertex Pharmaceuticals, Inc.Trials