Clinical Update: Long-Term Follow up on CRISPR-Edited CAR T Therapy for Leukaemia
By:
Karen O'Hanlon Cohrt - May. 26, 2021
GC027 is developed by Gracell Biotechnologies (Shanghai) as a standalone cancer therapy, using the company's proprietary TruUCAR technology. The early Phase 1 trial is sponsored by Xinqiao Hospital of Chongqing, China, in collaboration with a number of industrial and hospital-based partners in China.
The GC027 trial is ongoing in multiple centers in China and aims to enroll 30 participants between the ages of 2 and 70 years old. Initial trial data shared at last year's Virtual Meeting of the American Association for Cancer Research showed encouraging signs of efficacy and a manageable safety profile.
Long-term follow up reveals promising efficacy and safety data for GC027
New long-term follow-up data shared by Gracell last month further highlights the potential of GC027 as a one-time standalone treatment for T-ALL.
In an e-poster presentation at the 2021 American Association for Cancer Research Annual Meeting, the company revealed that 5 out of 6 trial participants with r/r T-ALL (age range 19-38 years) exhibited robust CAR T-cell expansion in the blood in the initial period after treatment as determined by flow cytometry. These 5 patients were then followed for up to 18 months, until a study cut-off date in February 2021, during which time they were monitored for therapeutic response and adverse events.
At 6 months, 3/5 patients had maintained Minimal Residual Disease Negative Complete Remission (MRD- CR). This means that no disease was detected in these patients. Long-term follow up on these 3 patients revealed that they maintained MRD-CR for at least 505, 267, and 217 days post-treatment, respectively, after which time there was evidence of disease relapse.
Encouraging data for a disease with high unmet need
T-ALL is a disease with a high unmet medical need, and once relapse occurs, treatment options are limited and prognosis is poor.
The patients evaluated as part of this data update had received a median of 6 lines of prior chemotherapy and during the GC027 trial, they each received a single transfusion of one of 3 dose levels of CAR T cells. Prior to infusion, they underwent lymphodepletion over 6 days. Lymphodepletion with chemotherapy is a common step in CAR T treatment regimens as an attempt to prolong the persistence of infused cells and thereby increase the effectiveness of the treatment.
All 6 patients tolerated the single infusion of GC027 cells, and no neurotoxicity or acute graft-vs-host disease (GvHD) events were observed. Cytokine release syndrome, which manifests as a rapid and abundant release of cytokines from immune cells into the blood upon immunotherapy, occurred in all patients but was managed effectively with an immunosuppressive monoclonal antibody.
GC027 is CRISPR-edited to target CD7+ T-ALL
TruUCAR is a technology platform for generating high-quality allogeneic CAR T therapies from non-HLA matched healthy donors, which can be readily scaled up as off-the-shelf products that are more cost-effective than conventional CAR T therapies generated from patient cells.
GC027 is specifically designed to express a CAR that targets CD7+ leukaemic cells. CD7 is a cell surface marker that is expressed on the surfaces of most cancerous T cells.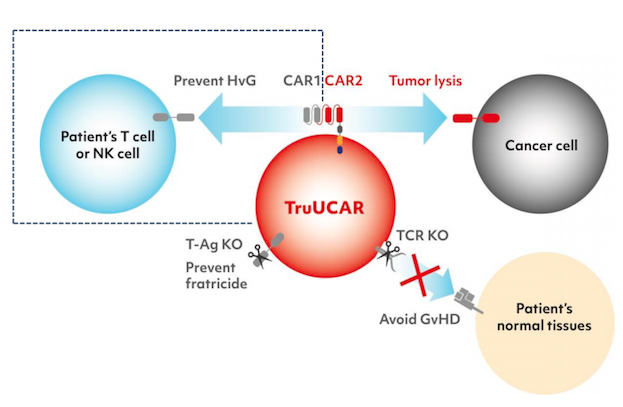 To develop GC027, T cells are isolated from healthy donors, transduced with a CD7-targting CAR and gene-edited using CRISPR-Cas9 technology. CRISPR edits include disruption of the endogenous T cell receptor to mitigate the risk of GvHD, and knockout of the native CD7 to prevent fratricide during or after the manufacturing process. TruUCAR also includes the novel design of either a dual-function CAR or a second CAR to target the patients' native T and NK cells to mitigate host-vs-graft disease (HvG). These modifications allow GC027 to be given to eligible patients without the need for donor human leukocyte antigen (HLA) matching.
Plans for IND filing for GC027
The trial discussed in this update is an investigator-initiated trial (IIT) to assess the safety and efficacy of GC027. The IIT serves as a source of early evidence for safety and potentially efficacy for the GC027 programme, and investigational new drug (IND) studies will build on IIT results. Gracell intends to file an IND application with the American Food and Drug Administration (FDA) for GC027 in 2022.
For a complete overview of current gene editing clinical therapeutic trials as well as diagnostic trials, check out CRISPR Medicine News' Clinical Trials Database.
Tags
Articlein vivoAcute Lymphoblastic Leukemia, ALLCancerCancerCAR-TGracell Biotechnologies Co., LtdCRISPR-CasCas9Xinqiao Hospital of ChongqingTrialsClinical