Clinical Update: Sickle Cell Disease IND Advances to Clinical Trial
By:
Karen O'Hanlon Cohrt - May. 12, 2021
EDIT-301, which is developed by Editas Medicine (US) as an autologous CRISPR-edited cell therapy for the treatment of severe sickle cell disease (SCD), will be assessed in the RUBY trial in 40 adult participants between the ages of 18 and 50 years.
The single-arm, open-label, multicenter study is actively recruiting, and the overall goal is to evaluate the efficacy, safety and tolerability of EDIT-301 in adults with severe SCD.
EDIT-301 is designed to reactivate foetal haemoglobin
EDIT-301 is developed using a CRISPR-Cas12a ribonucleoprotein to enhance the HBG1/2 promoter region in the beta-globin locus of patient-derived haematopoietic stem cells (HPSCs). Naturally-occurring HbF-inducing mutations at the HBG1/2 region support the clinical relevance of using gene editing to enhance the HBG1/2 promoter, and this strategy has been shown to increase the red blood cell levels of HbF.
EDIT-301 is the first experimental medicine in development using CRISPR-Cas12a gene-editing technology.
Editas presented data at the 25th European Hematology Association meeting last summer demonstrating that red blood cells derived from EDIT-301 HSPCs exhibit a sustained in vivo increase in HbF in animal models.
In August 2020, Editas obtained Rare Pediatric Disease Designation for EDIT-301 as a potentially best-in-class treatment for SCD in children from birth to 18 years. The company obtained FDA clearance to initiate the RUBY trial in January of this year, but it first had to resolve a partial clinical hold and submit an improved potency assay to the FDA, according to a company press release on Editas' website at that time.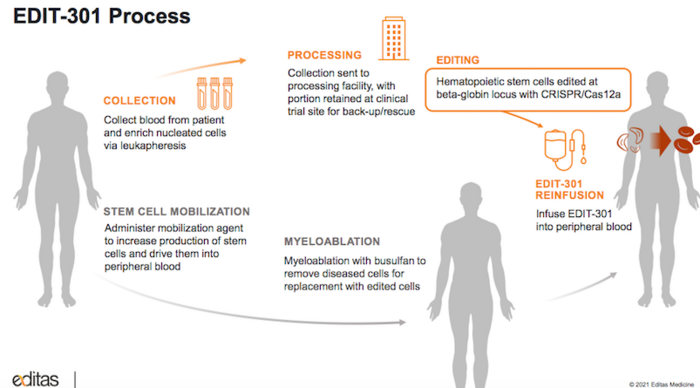 The RUBY Trial
During the RUBY trial, participants will receive a single intravenous infusion of EDIT- 301 after a myeloablative conditioning treatment with busulfan. Myeloablative conditioning destroys the participant's own bone marrow cells and serves to suppress the immune system so that the infused therapy, in this case EDIT-301 cells, will not be rejected.
The trial's primary outcome measure is the difference in the rates of severe vaso-occlusive events (VOEs) requiring medical attention pre- and post-treatment. VOEs or VOCs (vaso-occlusive crises) are the most commonly encountered complication in severe SCD, and these occur when small blood vessels get blocked because of sickled red blood cells which tend to be stiffer than healthy cells, and because the defective form of haemoglobin seen in SCD (haemoglobin S) renders the red blood cell membranes sticky.
During a VOE or VOC, the affected tissues lack oxygen, which may result in major damage and severe pain. The occurrence of such events will be monitored for up to 2 years following infusion with EDIT-301.
The trial includes a number of secondary outcome measures that include parameters related to red blood cell health, including HbF levels, haemoglobin levels, number of blood transfusions required to manage disease and number of annual hospital visits, all within 2 years following treatment.
The RUBY trial is expected to be complete in August 2025.
Other clinical-stage SCD programmes for foetal haemoglobin reactivation
While Editas' EDIT-301 is the first CRISPR-Cas12a based ex vivo therapy for SCD, it is not the only clinical-stage programme aiming to treat SCD through CRISPR-mediated HbF reactivation.
CTX001 - CRISPR Therapeutics and Vertex Pharmaceuticals
CRISPR Therapeutics and Vertex Pharmaceuticals (both US) are jointly developing CTX001 as a one-time ex vivo treatment for severe SCD and the related haemoglobinopathy beta thalassemia. CTX001 is engineered from patient haematopoietic stem cells (HSPCs), where CRISPR-Cas9 gene editing is used to delete the B-cell lymphoma/leukaemia 11A (BCL11A) gene. BCL11A is a negative regulator of HbF expression.
Clinical testing is ongoing for CTX001in Phase 1/2 trials for SCD and beta thalassemia, and preliminary data released so far raises hopes for a cure for both diseases. You can read more about CTX001 and its clinical progress here.
OTQ923 and HIX763 - Novartis Pharmaceuticals and Intellia Therapeutics
Novartis Pharmaceuticals (Switzerland) initiated an open label, non-randomised, first-in-patient, Phase 1/2, proof-of-concept study last year for two ex vivo CRISPR-edited autologous HSPC therapies, OTQ923 and HIX763, in adults and children.
Both experimental therapies are edited with CRISPR-Cas9 to reduce the biological activity of BCL11A to increase HbF expression and ameliorate SCD symptoms. OTQ923 and HIX763 are developed as a collaboration between Novartis and Intellia Therapeutics.
Related content
If you want to learn more about gene-editing strategies to treat SCD, you might be interested in our recent SCD clinical roundup.
For a complete overview of current gene editing clinical trials, check out CRISPR Medicine News' Clinical Trials Database.
Tags
Articlein vivoBlood DiseaseSickle Cell Disease, SCDBlood diseaseRare DiseaseCRISPR-CasCas12aCas9CRISPR Therapeutics AGEditas Medicine, Inc.Intellia Therapeutics, Inc.Novartis AGNovartis Gene Therapies, Inc.Vertex Pharmaceuticals, Inc.TrialsClinical