CMN Markets April 2021 (open access edition)
By:
Lasse V. Jørgensen and Mikkel R. Kristensen - May. 12, 2021
The CMN Markets Newsletter will bring you the latest news updates from the stock markets with focus on companies that have clinical-stage programmes involving a gene-editing tool like CRISPR.
Highlights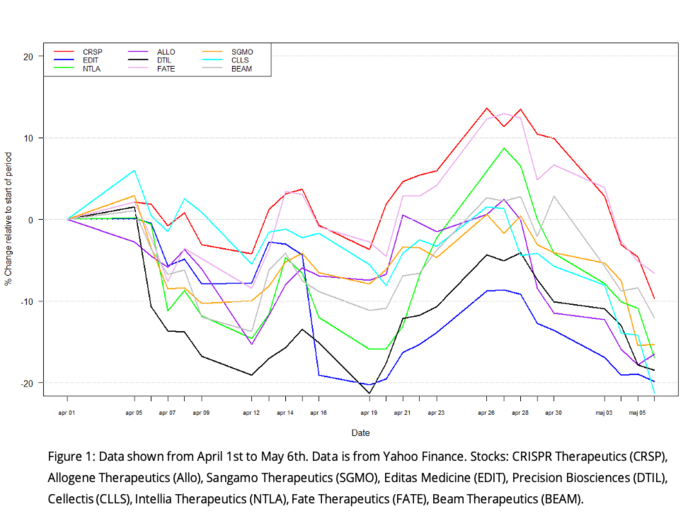 Big deals, big money
Vertex and CRISPR Therapeutics collaboration
Vertex Pharmaceuticals (Nasdaq:VRTX) and CRISPR Therapeutics (Nasdaq:CRSP) amended their existing deal from 2015, in which they agreed to jointly develop CRISPR-Cas9 therapies. As part of the new agreement, Vertex will hold the majority rights (60/40) for CTX001, their jointly-developed candidate for the treatment of sickle cell disease (SCD) and beta thalassemia (BT). The programme has so far produced promising data in both SCD and BT, and has been referred to as a potential "durable cure" for the two indications. Not surprisingly, the programme has already received multiple different designations, such as Regenerative Medicine Advanced Therapy (RMAT), Fast Track, Orphan Drug, and Rare Pediatric Disease designations from the FDA in order to smoothen and accelerate the path to approval. Vertex pays $900M upfront, with a further $200M upon the first approval, for a 10% increase in the programme-stake. CRISPR Therapeutics jumped more than 6% on the day of the deal, and surged further the following days, regaining some of the lost market capitalisation from the previous months.
Vertex and Obsidian collaboration
Vertex also announced a new agreement with Obsidian Therapeutics, a private company focused on the development of novel gene and cell therapies. The deal allows Vertex to use Obsidian's cytoDRiVE® platform to discover gene-editing regulating therapies. While the specific gene-editing technology of interest has not been disclosed, Vertex will pay Obsidian $75M in stock and cash. Vertex will furthermore pay Obsidian future milestone payments of up to $1.3B, based on certain achievements across five programmes that Vertex will gain access to. Despite the new deals, April has been a quiet month for the Vertex stock, having traded in the range of $209-221.
Precision Biosciences and Servier Pharmaceuticals termination
Precision Biosciences (Nasdaq: DTIL) has agreed to re-acquire the rights to several allogeneic CAR T programmes that were previously licensed by Servier Pharmaceuticals. The original deal, which was expanded in September 2020, was based on Precision's ARCUS® genome-editing platform, and included the two clinical CAR T programmes PBCAR0191 and PBCAR19B, as well as several pre-clinical programs. We previously shared a clinical roundup on these programmes. The stock initially declined more than 4% on the day of the announcement, but has since performed well. More information on gene-editing trials in cancer can be found here.
New data driving stock prices
Intellia clinical data
Intellia Therapeutics (Nasdaq: NTLA) shared the first pre-clinical trial data on its cytosine deaminase base-editor technology at the 7th Cold Spring Harbor Laboratory meeting on March 25th. The pre-clinical data revealed potential for expanded application of their base editor technology. The base editor was effective in introducing knock-outs at 90% efficiency without detectable increases in C>T levels in T cell genomes and C>U levels in T cell RNA. The data readout showed that Intellia's base-editing technology is comparable to their proprietary Cas9 system with respect to T cell engineering. This news led to a rise in stock price of 53%, shooting the stock from a low of $55.61 to $85.3 between March 25th and April 1st. This news also came coupled with the announcement that Intellia's CRISPR drug NTLA-2001 received European Union Orphan Drug designation for ATTR amyloidosis. NTLA-2001 is the first in vivo CRISPR gene-editing treatment to be administered systemically to humans. The treatment is based on a non-viral lipid nanoparticle delivery platform.
Disclaimer: None of the information given above should be considered investment advice. The authors or CRISPR Medicine News cannot be held accountable for any losses associated with investing in the companies discussed.
Tags
ArticleNewsCMN MarketsAllogene Therapeutics, Inc.Beam Therapeutics Inc.Cellectis S.A.CRISPR Therapeutics AGEditas Medicine, Inc.Fate Therapeutics, Inc.Institut De Recherches Internationales Servier Iris, SARL.Intellia Therapeutics, Inc.Precision BioSciences, Inc.Sangamo Therapeutics Inc.