CMN Markets February 2022 | CRISPR Stocks and Market News
By:
Lasse Vedel Jørgensen and Mikkel Reincke Kristensen - Mar. 3, 2022
The CMN Markets Newsletter will bring you the latest news updates from the stock markets with focus on companies that have clinical-stage programmes involving a gene-editing tool like CRISPR.
Highlights
Biotechnology sector once again under pressure
Intellia Therapeutics presents new long term-data for in vivo candidate
Financial reports presented by multiple companies
UC Berkeley loses years-long CRISPR patent dispute to the Broad Institute of Harvard and MIT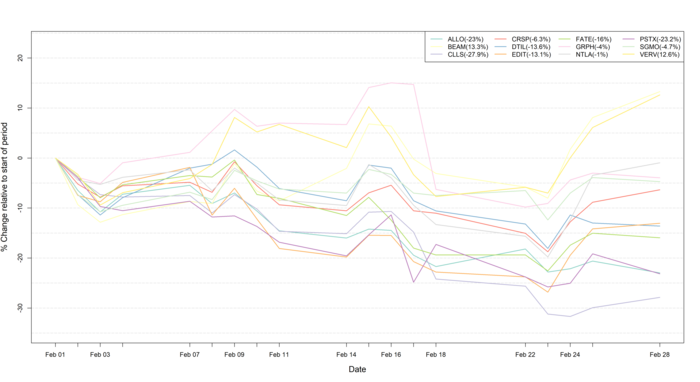 Figure 1: Data on stock performance shown from February 1st 2022 to February 28th 2022. Data from Yahoo Finance. Companies: CRISPR Therapeutics (CRSP), Allogene Therapeutics (ALLO), Sangamo Therapeutics (SGMO), Editas Medicine (EDIT), Precision Biosciences (DTIL), Cellectis (CLLS), Intellia Therapeutics (NTLA), Fate Therapeutics (FATE), Beam Therapeutics (BEAM), Verve Therapeutics (VERV), Graphite Bio (GRPH), Poseida Therapeutics (PSTX).
Influences from the broader economic trends
During the month of February, much nervousness surrounded the stock market amid fears of a war outbreak. This fear resulted in substantial declines in the stock markets, which culminated on February 24th when Russian troops entered Ukraine. While the global stock market initially took a substantial downturn (Figure 1), many companies quickly recovered from the initial shock. It is not yet clear whether or not sanctions will be placed on sales of medicines, thus, the impact of war on the pharmaceutical industry is difficult to predict at present. However, for now many big pharma companies are close to all-time highs for their stock prices despite continued high pressure as a result of the ongoing inflation and rate hikes, which is exemplified by the performance of NASDAQ Biotech Index (NBI) and the SPDR S&P Biotech ETF (XBI), as well as the CRISPR stocks mentioned in this newsletter.
Data influencing stock movements
Intellia Therapeutics reports first long-term data on NTLA-2001 programme
On February 28thIntellia Therapeutics (NASDAQ: NTLA) announced updated long-term data on its NTLA-2001 programme, which is being developed to treat transthyretin (ATTR) amyloidosis. The programme represents the most advanced CRISPR-based in vivo treatment to date. The company could report 86% and 93% mean serum TTR reduction by Day 28 post-treatment at doses of 0.7 mg/kg and 1.0 mg/kg, respectively. The company also reported that these reductions in mean serum TTR remained durable through the observation periods for the patients, which ranged from two to 12 months. This is promising data given that durability is a key metric for the development of novel gene therapies, however longer follow-up is required to truly determine the therapeutic applicability of this treatment. Read more about NTLA-2001 here and here.
Despite the promising results for NTLA-2001, the Intellia stock price declined heavily on the next trading day, following the outcome of the years-long CRISPR patent dispute between University of California (UC) Berkeley and the Broad Institute of Harvard and MIT. UC Berkeley lost the case, which resulted in the U.S. Patent and Trademark Office invalidating a key patent that Intellia had licensed from UC Berkeley.
Financial results from third quarter (Q4) of 2021 and full year reports
Beam Therapeutics
On February 28th, Beam Therapeutics (NASDAQ:BEAM) reported fourth quarter and full year results as well as planned 2022 milestones. The company highlighted the transformational collaboration with Pfizer and the upcoming milestones, which include the dosing of the first patient with BEAM-101 for the treatment of sickle cell disease (SCD). The company also aims to submit two investigational new drug (IND) applications during the second half (H2) of 2022. One is for BEAM-102, another treatment approach for SCD, while the other is BEAM-201, the company's first chimeric antigen receptor (CAR)-T cell therapy candidate, which is being developed for the treatment of relapsed/refractory T cell acute lymphoblastic leukaemia/T cell lymphoblastic lymphoma (T-ALL/TLL). The company reported a cash position of $1.2B, which is sufficient to fund pre-clinical and clinical operations in the coming years, although operational expenditures are high, with net costs of $444M for the full year.
CRISPR Therapeutics
On February 15th, CRISPR Therapeutics (NASDAQ:CRSP) reported fourth quarter and full year results. The company highlighted its clinical programme for CTX001 for the treatment of SCD, which has now enrolled more than 70 patients. The company also mentioned dosing of the first patient in the Phase I clinical trial for VCTX210, which it is co-developing with Viacyte, to treat type 1 diabetes. Furthermore, the company expects to report topline data for two of its clinical candidates, CTX120 and CTX130, in the first half of 2022. CTX120 is a CAR-T cell candidate targeting BCMA for the treatment of multiple myeloma, while CTX130 is a CAR-T cell candidate targeting CD70 for the treatment of certain solid tumours. The company ended 2021 with a cash position of $2.38B, which is enough to fund operations for the years to come, given the total operating expenses of $541M.
Editas Medicine
On February 24th, Editas Medicine (NASDAQ:EDIT) announced fourth quarter and full year results. The company announced that it expects to provide a clinical update for its EDIT-101 programme for the treatment of leber congenital amaurosis 10 (LCA10) during the second half (H2) of 2022. The company also anticipates dosing the first patient with EDIT-301 for the treatment of SCD during the first half (H1) of 2022, as well as the first patient with transfusion-dependent beta thalassemia (TDT) at some point during 2022. The company also reported that two other programmes are progressing towards IND-enabling studies. The first is EDIT-103, a product candidate targeting the RHO-adRP protein to treat a genetic eye disease called retinitis pigmentosa. The other product candidate, EDIT-202, is a product candidate involving induced natural killer (iNK) cells that are modified with multiple genetic edits in order to treat solid tumours. The company ended the year with $619.9M in cash and cash equivalents, which is anticipated to support operations through 2023.
Intellia Therapeutics
On February 24th, Intellia Therapeutics (NASDAQ:NTLA) announced fourth quarter and full year results. Most notably, the company could confirm its plans to share the first interim update on the ongoing first-in-human study of NTLA-2002 for hereditary angioedema (HAE) in H2 2022. It could also reveal two new development candidates; NTLA-6001, an ex-vivo-edited allogeneic CAR-T candidate targeting CD30, and NTLA-2003, an in-vivo knockout candidate that targets the SERPINA1 gene to treat certain liver diseases. Both programmes are progressing towards IND-enabling studies. Intellia reported a year-end cash position of $1.086B, although the company did not report for how long this will fund operations.
Allogene Therapeutics
On February 23th, Allogene Therapeutics (NASDAQ:ALLO) announced fourth quarter and full year results. The company could report that all clinical activity has resumed after the U.S. Food and Drug Administration (FDA) lifted the clinical hold that it had placed on the company's clinical programmes in October 2021. Allogene had $810M in cash by the end of 2021 and expects full year GAAP operating expenses to be between $360M and $390M for 2022.
New deals and market developments
Intellia Therapeutics acquires Rewrite Therapeutics and establishes collaboration with ONK Therapeutics
During February, Intellia Therapeutics has been particularly active in its business development activities. On February 3rd,Intellia announced that it had entered into an agreement to acquire Rewrite Therapeutics for up to $200M. Rewrite Therapeutics is a California-based start-up company that has developed a next generation DNA-writing technology based on CRISPR-guided DNA polymerases. The acquisition of this technology is intended to complement Intellia's existing CRISPR-Cas9 and base-editing technologies and Intellia has yet to disclose any lead programmes using this new technology.
On February 15thIntellia Therapeutics entered into an agreement with ONK Therapeutics to develop CRISPR-edited natural killer (NK) cell-based therapies for the treatment of cancers. While ONK Therapeutics retains worldwide rights to the developed programmes, Intellia has secured global co-development and co-commercialisation options for up to two CRISPR-edited NK cell therapies coming from the collaboration. With the collaboration, Intellia joins a therapeutic space with other well-known players such as Fate Therapeutics, Editas Medicine and Caribou Biosciences, which are all trying to genetically modify NK cells to treat cancers.
Finally, the company could also announce the expansion of its manufacturing facilities, with the lease of a GMP manufacturing facility. This should support Intellia when it scales up its pre-clinical and clinical operations, particularly with NTLA-2001 going into late-stage development.
Editas Medicine announces favourable outcome on patent interference
On February 28th,Editas Medicine announced a favourable decision from the U.S. Patent and Trademark Office (USPTO) regarding the years-long CRISPR patent dispute between University of Vienna and UC Berkeley on one side, and the Broad Institute of MIT and Harvard on the other side.
USPTO determined that the Broad Institute was the first to use the CRISPR-Cas9 technology in human cells, thus it was entitled to the patent claim. Patents owned by the Broad Institute are exclusively licensed to Editas Medicine for the development of medicines for people living with serious diseases. Other companies, such as Intellia Therapeutics and Caribou Biosciences, have licensed their CRISPR technologies from UC Berkeley. The following day, Intellia's stock price was down -19.22%, despite its promising clinical results (for NTLA-2001) reported the day before, while Caribou Biosciences' stock price was down -6.31%. Currently, it is uncertain what the consequences will be for those companies that hold CRISPR licences from UC Berkeley.
What to look out for in March
In March we will see the earnings reports for the final quarter of 2021 from companies such as Caribou Biosciences, Verve Therapeutics, Graphite Bio and others. The earnings and how they compare to analyst expectations will be covered in the next edition of CMN Markets, as well as how the earnings translate to movements in the stock prices of the companies.
Disclaimer: None of the information given above should be considered investment advice. The authors or CRISPR Medicine News cannot be held accountable for any losses associated with investing in the companies discussed.
To get more of the CRISPR Medicine News delivered to your inbox, sign up to the free weekly CMN Newsletter here.
Tags
ArticleNewsCMN MarketsAllogene Therapeutics, Inc.Beam Therapeutics Inc.Cellectis S.A.CRISPR Therapeutics AGEditas Medicine, Inc.Fate Therapeutics, Inc.Graphite Bio, Inc.Intellia Therapeutics, Inc.Kyverna TherapeuticsPoseida TherapeuticsPrecision BioSciences, Inc.Sangamo Therapeutics Inc.Verve Therapeutics, Inc.Viacyte