CMN Markets October 2021 | CRISPR Stocks and Market News
By:
Lasse Vedel Jørgensen and Mikkel Reincke Kristensen - Nov. 3, 2021
The CMN Markets Newsletter will bring you the latest news updates from the stock markets with focus on companies that have clinical-stage programmes involving a gene-editing tool like CRISPR.
Highlights
FDA halts Allogene Therapeutics AlloCAR trials following chromosomal abnormalities in a single patient in ALPHA2 trial
CRISPR Therapeutics disappoints investors with otherwise positive results in CARBON trial for CTX110
Poseida Therapeutics announces new research collaboration with Takeda Pharmaceuticals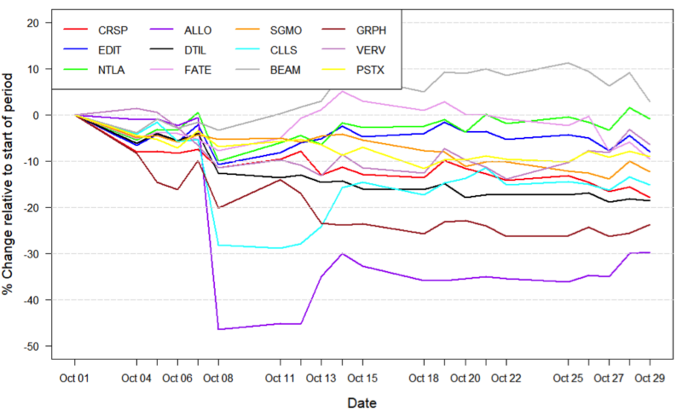 Figure 1: Data on stock performance shown from October 1st to November 1st. Data from Yahoo Finance. Companies: CRISPR Therapeutics (CRSP), Allogene Therapeutics (ALLO), Sangamo Therapeutics (SGMO), Editas Medicine (EDIT), Precision Biosciences (DTIL), Cellectis (CLLS), Intellia Therapeutics (NTLA), Fate Therapeutics (FATE), Beam Therapeutics (BEAM), Verve Therapeutics (VERV), Graphite Bio (GRPH), Poseida Therapeutics (PSTX).
Influences from the broader economic trends
October started out as a rocky month for biotech and growth in general. The US federal reserve has bought bonds on the US market for a long time, during the most intense phase of the COVID-19 pandemic and also more recently. This has been done in order to raise the prices of bonds and lower interest rates, to fuel growth in the US economy and counter the effects of the global pandemic. Now, recent comments from the federal reserve on tapering the bond purchases has led investors to worry that this tapering will come sooner rather than later. Nevertheless, the latter part of October has seen continued growth in the stock market and depending on the news from the federal reserve, this increase in stock price could simply continue.
Data influencing stock movements
CRISPR Therapeutics disappoints with mediocre data readout
On October 12thCRISPR Therapeutics (NASDAQ:CRTX) reported the results of its Phase 1 CARBON trial for CTX110 in relapsed or refractory CD19+ B-cell malignancies. CTX110 is a gene-edited allogeneic CAR-T cell therapy developed solely by CRISPR Therapeutics. The company reported an overall response rate of 58% and a complete response rate of 38%, which is in line with currently marketed autologous CAR-T therapies. It also reported a positive safety profile, with all incidences of cytokine release syndrome (CRS) being grade 1 and 2, and low rates of infection and immune effector cell-associated neurotoxicity syndrome (ICANS).
While these preliminary results are predominantly positive and still very early, they seem to have disappointed investors. The main concern is whether CTX110 will be able to differentiate from other CD19-targeting therapies in the very competitive treatment landscape of B-cell malignancies. The day following the data release, CRISPR Therapeutics' stock fell by 7.7%, corresponding to -$8, bringing the company's stock price to levels not seen since November 2020.
FSD halts Allogene Therapeutics clinical CAR T programmes
Allogene Therapeutics (NASDAQ:ALLO) stock slipped on October 7th through October 8th after the company reported that the FDA had put a hold on its AlloCAR T trials.
The hold was put in place after findings showed an induced chromosomal abnormality in a single patient in the company's ALPHA2 trial for its ALLO-501A CAR T programme. The clinical significance of the chromosomal abnormality is unclear at the time of reporting a that the patient in question achieved a partial response to the treatment prior to discovery. An investigation is currently ongoing to investigate whether these findings have clinical significance and how this may relate to gene-editing. Despite Allogene Therapeutics noting that it expects the data from the ALPHA trial to demonstrate a favourable clinical profile, the company stock dropped by 46.5%, corresponding to -$11.4 and bringing the stock to all time lows.
Notably, the news of the FDA halt seems to have resulted in widespread ripple effects throughout the gene-edited CAR T field, as the stock price of several companies involved in the development of allogeneic CARs and even gene-editing in general also dropped in light of the news reported by Allogene Therapeutics. The effect was seen most pronounced for companies such as Cellectis (NASDAQ:CLLS), Editas Medicine (NASDAQ:EDIT) and Precision Biosciences (NASDAQ:DTIL), who seem to have been hit in the crossfire of the halt. The news also prompted Precision to release a safety statement on its own proprietary CAR-T programmes on October 8th.
Intellia authorised to progress clinical trials and announce strategic partnership with SparingVision
On October 6th Intellia Therapeutics (NASDAQ:NTLA) reported that the company had received authorisation to progress its NTLA-2002 drug candidate into Phase 1/2 clinical trials. NTLA-2002 is the first single-dose genome-editing therapy designed to prevent inflammatory attacks in people suffering from hereditary angioedema. The drug will be systemically administered in a single dose to inactivate the Kallikrein B1 gene using CRISPR-Cas9. Upon releasing the news Intellia stock rose by 6.3% corresponding to $8. NTLA-2002 is Intellia's second in vivo gene-editing therapy candidate, with the company's other programme being NTLA-2001 for the treatment of transthyretin amyloidoses, for which it also received Orphan Drug Designation by the FDA during October.
On October 13thIntellia disclosed that the company had entered into a strategic collaboration with SparingVisionto develop ocular therapies using CRISPR-Cas9 technology. Through the agreement, SparingVision will be granted exclusive rights to Intellia's proprietary CRISPR-Cas9 platform directed at three targets. In return, Intellia will be granted 10% equity in SparingVision and will be eligible to receive development and commercial milestone payments of up to $200 million in addition to royalties. Intellia's stock price rose by 6.2% after this announcement, corresponding to $7.76.
Sarepta Therapeutics announces public offering of shares
On October 13thSarepta Therapeutics (NASDAQ:SRPT) announced that the company had priced an underwritten public offering of 6,172,840 shares of its common stock at a price of $81.00. From this offering, Sarepta expects the gross proceeds to amount to approximately $500 million. With this money, Sarepta intends to continue developing its existing programmes as well as the acquisition or licensing of new products and technologies. In response to the announcement Sarepta's stock price dropped 11.6%, corresponding to a drop of $11.21 per share.
Poseida Therapeutics announces new collaboration with Takeda
Poseida Therapeutics (NASDAQ:PSTX) reported on the 12th of October that the company had entered into a research collaboration with Takeda Pharmaceuticals (NASDAQ:TAK).
The collaboration will leverage Poseida's proprietary technology platforms such as its piggyBac and Cas-CLOVER platforms. Initially, the collaboration will include up to six liver- and haematopoietic stem cell indications with expansion opportunities of up to two programmes. Poseida is set to receive an upfront payment of $45 million and the company is eligible to receive up to $125 million in pre-clinical milestone payments. Future developments milestone payments for clinical trial progress and commercialisation can total up to $1.7 billion if all six programmes turn out to be a success. After announcing the collaboration Poseida Therapeutics stock price went up by 11.36%, corresponding to $0.72.
Cellectis presents preclinical data from novel gene editing programmes
Cellectis (NASDAQ:CLLS) announced initial pre-clinical data for two product candidates targeting primary immunodeficiencies at the European Society of Gene and Cell Therapy (ESGCT) Congress which was held between October 19-22th. For the first programme, which is focused on Severe Combined Immunodeficiency (SCID), the company used its proprietary TALEN® technology to replace the mutated copy of RAG1, a gene encoding the RAG1 enzyme, which is essential for early B- and T cell development, with healthy copy of RAG1. The second programme is focused on the corrected version of the STAT3 gene for the treatment of Hyper IgE Syndrome. Upon the announcement of the data, Cellectis' stock price went up by more than 7%, but later declined intra-day.
What to look out for in November
November is the month in which many of the gene-editing focused companies report third quarter (Q3) earnings of 2021, and these will be discussed in next month's newsletter.
From November 10th to November 14th the annual Society for Immunotherapy of Cancer (SITC) meeting will be held. The event will include presentations from Editas Medicine, Allogene Therapeutics, CRISPR Therapeutics and others, all of which will be discussed in the November edition of CMN Markets.
Disclaimer: None of the information given above should be considered investment advice. The authors or CRISPR Medicine News cannot be held accountable for any losses associated with investing in the companies discussed.
Tags
ArticleNewsCMN MarketsHereditary angioedema, HAEAllogene Therapeutics, Inc.Beam Therapeutics Inc.Cellectis S.A.CRISPR Therapeutics AGEditas Medicine, Inc.Fate Therapeutics, Inc.Graphite Bio, Inc.Intellia Therapeutics, Inc.Poseida TherapeuticsPrecision BioSciences, Inc.Sangamo Therapeutics Inc.Sarepta TherapeuticsSparingVisionTakeda PharmaceuticalsVerve Therapeutics, Inc.