Clinical Update: TALEN-Edited CAR T-Cell Therapy for Large B-Cell Lymphoma
By:
Karen O'Hanlon Cohrt - Feb. 7, 2023
ALLO-501A is a next-generation anti-CD19 AlloCAR T therapy developed by US-based Allogene Therapeutics. The new therapy is currently being evaluated in the Phase 1/2 ALPHA-2 trial for relapsed or refractory large B cell lymphoma (LBCL).
ALLO-501A is an anti-CD19 CAR T-cell therapy that is made from healthy donor cells, i.e., an allogeneic approach. The benefit of this approach is that it provides a larger source of cells to work with than autologous approaches that rely on patient-derived cells. This makes it possible to develop standardised off-the-shelf therapies, and saves patients from undergoing blood cell isolation procedures.
However, the downside of using allogeneic cell therapies is that the risk of graft-vs-host disease (GVHD) must be mitigated to avoid rejection of the therapy. GVHD may result from histo-incompatibility between a donor and recipient and can be fatal.
A TALEN-engineered CAR T-cell therapy
To develop ALLO-501A, donor cells are transduced with an integrating, self-inactivating recombinant lentivirus that harbours the anti-CD19 CAR. ALLO-501A is subjected to several TALEN-mediated gene edits (see Fact Box) to mitigate the risk of GVHD and to equip the therapeutic cells with other beneficial features.
To alleviate the risk of GVHD, the T cell receptor (TCR) gene, TRAC, in donor-derived cells is disrupted by TALEN editing. ALLO-501A is further edited by CD52 gene disruption, again using TALEN technology. CD52 disruption is a common feature in allogeneic CAR T therapies, in which an anti-CD52 monoclonal antibody (mAb) is administered to patients prior to treatment to suppress the patient's immune system and allow the CAR T cells to engraft for long-term therapeutic effect. CD52 disruption renders ALLO-501A resistant to this treatment.
ALLO-501A builds upon Allogene's earlier candidate ALLO-501, which is being assessed in the ongoing ALPHA trial. ALLO-501, which you can read about in one of our earlier posts, harbours rituximab recognition domains, while these are eliminated in ALLO-501A.
Rituximab is a CD20-specific monoclonal antibody that is widely used in the treatment of malignant lymphoma. In ALLO-501A, the rituximab recognition domains are eliminated, which Allogene Therapeutics believes will allow for use in a broader patient population, including Non-Hodgkin lymphoma patients who have recently been treated with rituximab.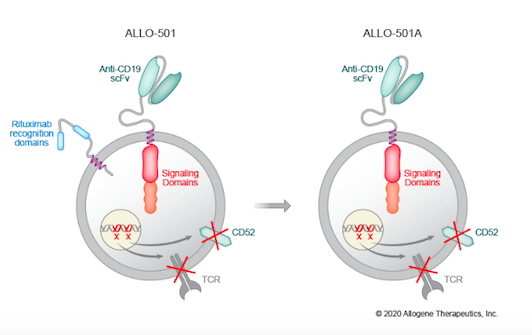 The ALPHA-2 Trial
The ALPHA-2 trial began in June 2020 and is currently recruiting 120 adult participants at multiple US sites. The trial is designed to assess the safety of ascending doses, efficacy, and cell kinetics of ALLO-501A in adults after a lymphodepletion regimen comprising fludarabine, cyclophosphamide, and Allogene's CD52 mAb, ALLO-647.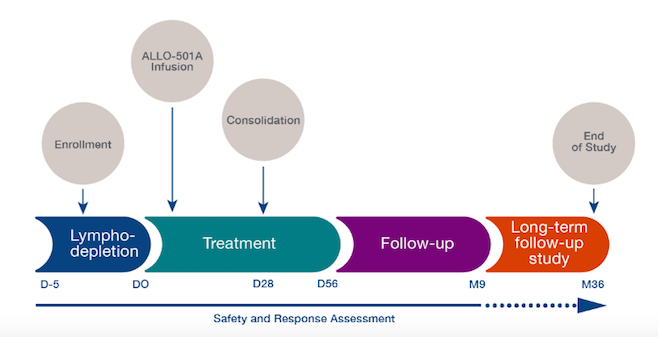 The trial builds upon knowledge gained during the related ALPHA trial with respect to cell dosing numbers and the ALLO-647 lymphodepletion regimen.
ALPHA-2's primary objectives are to: assess the safety and dose-limiting toxicity of a lymphodepletion regimen consisting of ALLO-647, fludarabine and cyclophosphamide, followed by intravenous administration of ALLO-501A, and to evaluate the overall response rate by independent radiology review. The main secondary endpoints include overall response rate evaluation by the investigator, as well as assessment of ALLO-501A cell kinetics and ALLO-647 pharmacokinetics.
The timeline for the ALPHA-2 trial is depicted schematically below. The company recently announced that it will share the first clinical data from the ALPHA-2 trial at the 2021 American Society of Clinical Oncology (ASCO) Annual Meeting this June.
ALLO-501A is developed using Cellectis TALEN technology. Allogene's collaboration partner, Servier, has granted Allogene with exclusive rights to ALLO-501A in the US, while Servier retains exclusive rights for all other countries.
For a complete overview of current gene editing clinical trials, check out CRISPR Medicine News' Clinical Trials Database.
Transcription activator-like effector nucleases (TALENs)
Transcription activator-like effector nucleases (TALENs) are derived from a class of proteins that contain transcription activator-like effector (TALE) domains.
TALEs are highly specific DNA-binding proteins that harbour an array of 33 or 34-amino acid repeats. Each repeat is highly conserved, with the exception of the so-called repeat variable di-residues (RVDs) at amino acid positions 12 and 13.
The RVDs determine the DNA sequence to which a TALE will bind. This recognition system is straightforward and easy to predict, making it possible to design custom arrays that recognise particular DNA sequences of interest.
TALENs are generated by fusing the DNA cutting domain of a nuclease to a TALE domain, which is engineered to recognise a specific target DNA sequence. The TALE directs the otherwise non-specific nuclease to a target site where it makes a double-stranded cut in the DNA. In this way, TALENs serve as readily targetable "DNA scissors" for gene-editing applications including sequence insertion, deletion, repair and replacement in living cells.
TALENs are extremely precise with low off-target editing, owing partially to the length of their 30+ base pair-binding site, and they are used in a number of therapeutic gene-editing applications.
TALEN® is a registered trademark owned by the Cellectis Group.
This roundup was originally published on 5th May 2021. In the original text, it was incorrectly stated that a CAR is inserted into the TRAC locus during the development of ALLO-501A. This inaccuracy was corrected on 7th February 2023. This amendment affects the first two paragraphs of the section entitled: 'A TALEN-engineered CAR T-cell therapy'.
Tags
Articlein vivoB-cell Malignancy, NHLCancerCAR-TGene therapyADIR-SERVIERTALENsAllogene Therapeutics, Inc.TrialsClinical