CMN Markets January 2022 | CRISPR Stocks and Market News
By:
Lasse Vedel Jørgensen and Mikkel Reincke Kristensen - Feb. 3, 2022
The CMN Markets Newsletter will bring you the latest news updates from the stock markets with focus on companies that have clinical-stage programmes involving a gene-editing tool like CRISPR.
Highlights
Biotech sector pressured by macroeconomic trends
Clinical hold on Allogene Therapeutics' clinical pipeline lifted by the US Food and Drug Administration (FDA)
Multiple companies announcing updates and anticipated milestones for 2022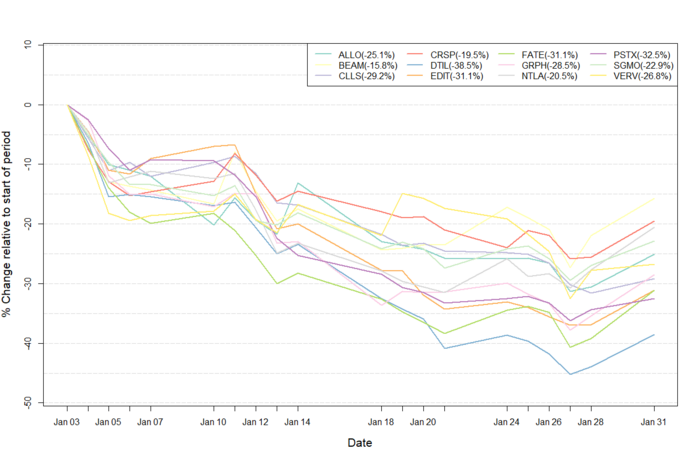 Figure 1: Data on stock performance shown from January 1st 2022 to January 31st 2022. Data from Yahoo Finance. Companies: CRISPR Therapeutics (CRSP), Allogene Therapeutics (ALLO), Sangamo Therapeutics (SGMO), Editas Medicine (EDIT), Precision Biosciences (DTIL), Cellectis (CLLS), Intellia Therapeutics (NTLA), Fate Therapeutics (FATE), Beam Therapeutics (BEAM), Verve Therapeutics (VERV), Graphite Bio (GRPH), Poseida Therapeutics (PSTX).
Influences from the broader economic trends
The market had a rough entrance into 2022. January saw the overall indices declining from their all-time highs achieved in December 2021. Tech stocks, including those within biotech, have been hit especially hard by this downturn and the U.S. NASDAQ Biotechnology Index (NBI) went down by 12.5% in January. The most likely reason for this downturn is that the market is starting to gradually price in the economic implications of the coming increase in interest rates based on the plan laid out by The Federal Reserve.
On January 14thBloomberg reported that 2022 had seen the worst start for tech stocks since 2016, resulting from the fears of runaway inflation. At market close on Friday 14th, the NASDAQ 100 Index had fallen for 3 weeks straight. Randy Frederick, vice president of trading and derivatives at Charles Schwab & Co. spoke on the matter saying: »Inflation has gotten really high, to multi-decade highs, and that's really become a problem for the market.« On when the market will start going up again, Fredericks said: »We're going to get a rate hike in March, but that is still a ways out [...] We have to see a stabilisation in rates, and more certainty about what economic data looks like overall, before you'll see people move back into these growthier names.«
Data influencing stock movements
It is hard to determine how the data from companies this month has influenced the stock prices, as the overall incentive in the market is in such a downturn. We have compiled the most notable data from companies featured on the CMN Markets monthly graph.
Allogene Therapeutics reports FDA halt lifted on all trials and collaboration with Antion Biosciences
On January 10thAllogene Therapeutics (NASDAQ:ALLO) reported that the FDA had lifted its clinical hold on all AlloCAR T trials. In October 2021 the FDA halted all trials at Allogene Therapeutics in response to the observation of a chromosomal abnormality in a patient treated in the company's ALLO-501A ALPHA2 clinical trial. However, the investigation showed that the observed chromosomal abnormality was unrelated to Allogene's TALEN-editing platform, which it has licensed from Cellectis. The company reported that it is on track for initiating Phase 2 clinical studies for its ALLO-501A in relapsed or refractory large B-cell lymphoma in mid 2022. Following the news, the company stock rose almost 6% the following day.
The following day on January 11th Allogene Therapeutics reported that it had entered into a collaboration and global licensing agreement with Antion Biosciences. The collaboration allows Allogene Therapeutics to license Antions miRNA platform for the development of next-generation allogeneic CAR T products through the use of multiplex gene silencing.
Beam Therapeutics enters into collaboration agreement with Pfizer and reports development plan
On January 9thBeam Therapeutics (NASDAQ:BEAM) reported progress on its base-editing pipeline and outlined the company's anticipated milestones in 2022. Beam Therapeutics announced that it plans to enroll its first patient in the BEAM-101 Phase 1/2 clinical trial for the treatment of sickle cell disease in the second half (H2) of 2022. Beam also reported that it has selected its 4th development candidate, BEAM-301. BEAM-301 is the company's first in vivo base-editing candidate, and aims to correct the mutation R38C in patients suffering from glycogen storage disorder Ia (GSD1a).
On January 10th Beam Therapeutics announced that the company had entered into a 4-year research collaboration agreement with Pfizer. The collaboration will combine Pfizer's expertise in mRNA and lipid nanoparticles with Beam's expertise in base editing. The collaboration will bring Beam Therapeutics $300 million in upfront payments, and potential future milestone payments of up to $1.05 billion. The collaboration is focused on development of in vivo base editing of three targets for genetic diseases of the liver, muscles and nervous system, and gives Beam the opportunity to choose one programme to co-develop and commercialise globally with Pfizer. The Beam Therapeutics company stock rose 10.7% on the back of this news.
Verve Therapeutics reports anticipated development milestones
On January 10thVerve Therapeutics (NASDAQ:VERV) gave an update on the future development of its base-editing studies. Verve's flagship trial VERVE-101 is on pace to treat the first patient in Phase 1 trials in Q2 2022. VERVE-101 is used to disable the PCSK9 gene in patients with heterozygous familial hypercholesterolemia. The company also reported that it plans to initiate IND-enabling studies for its ANGPTL3 programme in Q2 2022.
Intellia Therapeutics announces partnership with Kyverna Therapeutics and anticipated development milestones
Intellia Therapeutics (NASDAQ: NTLA) announced on January 5th that the company had entered into a licensing agreement with Kyverna Therapeutics, a cell therapy company focused on autoimmune diseases. The agreement gives Kyverna exclusive rights to Intellia's allogeneic cell engineering platform. Kyverna will use this to advance its KYV-201 programme, a CD19-targeting CAR T-cell therapy. Kyverna is set to lead the development of the project in both clinical and pre-clinical studies, with Intellia having the possibility to opt-in for co-development and promotion in the future.
The following day (January 6th), Intellia highlighted the company's development plan for 2022. Intellia plans to advance its NTLA-2001 single dose therapy for patients suffering from transthyretin amyloidosis. The company also reported that it is on track to present clinical Phase 1 data on the trial in the first quarter (Q1) of 2022. Intellia also hopes to achieve proof-of-concept data on its NTLA-2002 trial in patients suffering from hereditary angioedema, which will be presented in Q2 of 2022. Additionally, the company announced that it plans to establish a safety and activity profile for its NTLA 5001 study for patients suffering from acute myeloid leukaemia (AML). The company stock rose almost 3% over the days where these announcements were made.
Fate therapeutics announces FDA clearance on IND application
On January 10thFate Therapeutics (NASDAQ:FATE) announced that the FDA had cleared its IND application for FT536, a CAR natural killer (NK) cell therapy directed at pan-tumour associated stress proteins MICA and MICB, which are often overexpressed in multiple solid tumours. The therapy is an off-the-shelf, multiplexed-engineered, iPSC-derived treatment candidate targeting the alpha3 domain of MICA-and B proteins. FT536 is to be evaluated both as a monotherapy and in conjunction with monoclonal antibody treatments.
What to look out for in February
February marks the start of Q4 2021 earnings season for the gene-editing companies featured in the CMN Markets graph. In February we will see the earnings report for the final quarter of the previous year from companies such as Editas Medicine, Fate Therapeutics, CRISPR Therapeutics and others. The earnings and how they compare to analyst expectations will be covered in the next edition of CMN Markets, as well as how the earnings translate to movement in the stock price of the companies.
Disclaimer: None of the information given above should be considered investment advice. The authors or CRISPR Medicine News cannot be held accountable for any losses associated with investing in the companies discussed.
Tags
ArticleNewsCMN MarketsCancerHereditary angioedema, HAEMultiple Myeloma, MMSolid Tumor AdultSolid TumoursCAR-TAllogene Therapeutics, Inc.Beam Therapeutics Inc.Cellectis S.A.CRISPR Therapeutics AGEditas Medicine, Inc.Fate Therapeutics, Inc.Graphite Bio, Inc.Intellia Therapeutics, Inc.Kyverna TherapeuticsPoseida TherapeuticsPrecision BioSciences, Inc.Sangamo Therapeutics Inc.Verve Therapeutics, Inc.