CMN Markets June 2021 | CRISPR Stocks and Market News
By:
Lasse Vedel Jørgensen and Mikkel Reincke Kristensen - Jul. 8, 2021
The CMN Markets Newsletter will bring you the latest news updates from the stock markets with focus on companies that have clinical-stage programmes involving a gene-editing tool like CRISPR.
Highlights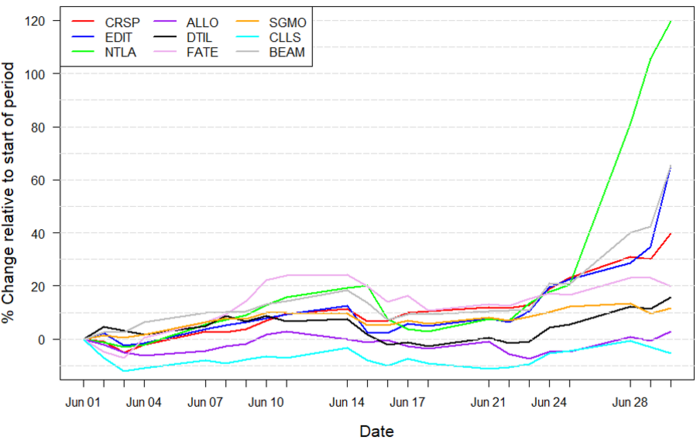 Figure 1: Data on stock performance shown from June 1st to July 1st. Data from Yahoo Finance. Companies: CRISPR Therapeutics (CRSP), Allogene Therapeutics (Allo), Sangamo Therapeutics (SGMO), Editas Medicine (EDIT), Precision Biosciences (DTIL), Cellectis (CLLS), Intellia Therapeutics (NTLA), Fate Therapeutics (FATE), Beam Therapeutics (BEAM).
Influences from the broader economic trends
During June, the NASDAQ Biotechnology Index (NBI) continued its phenomenal performance after the positive trend gained momentum by the end of May, as we reported here. It seems the inflation fears that terrorised the stock market earlier this year have diminished as financial analysts prognose that inflation will not be an issue for the stock markets.
Franziska Palmas at Capital Economics told Yahoo Finance that »we are not anticipating a repeat of the sharp sell-offs seen during the periods of high inflation in the 1960s and 1970s.«
Palmas added »signs of rising inflation have not sparked a reassessment of the outlook for monetary policy,« thus explaining that she and Capital Economics as a whole do not expect that the inflation we are seeing will lead to changes in monetary policy, i.e. a rise in interest rates to promote saving over spending.
Between June 15th and June 16th, the American Federal Reserve announced its strategy on the upcoming monetary policy. The federal reserve said that it would keep interest rates near zero but that hikes are to be expected before 2023.
Fed Chairman Jerome Powell also spoke on inflation, saying »inflation could turn out to be higher and more persistent than we suspect,« acknowledging that inflation might become a problem, although it is unexpected. The growth market, including biotechnology and genome-editing related stocks, took these forecasts well, and June has been a great month on the NASDAQ.
American Society of Clinical Oncology annual meeting
The American Society of Clinical Oncology (ASCO) annual meeting took place virtually between June 4th & June 8th. Allogene Therapeutics (NASDAQ: ALLO) presented positive results on its ALLO-501 and ALLO-501A programmes in relapsed/refractory non-Hodgkin lymphoma on June 4th. Allogene presented data from the company's recent CD19 forum demonstrating a complete response rate of 36% for its ALLO-501 CAR-T cells in large B-cell lymphoma and follicular lymphoma. This resulted in the most prolonged ongoing complete response on both diseases at 15 months post-treatment. In addition, the company showed that the treatment had an overall response rate of 75% and a complete response rate of 50% in CAR T naive patients, comparable to autologous CAR T patients.
Additionally, Allogene showed that its ALLO-501A programme had comparable efficacy and safety to its ALLO-501 programme, showing no dose-limiting toxicities or graft versus host disease in the patients. As a result, the Allogene Therapeutics stock price rose steadily between June 4th and June 14th. However, the stock started a new decline after this, and the company's stock has seen a fairly consistent decrease since April 27th.
European Hematology Association annual meeting
The European Hematology Association (EHA) annual meeting took place virtually between June 9th and June 17th. During the meeting, several gene-editing companies provided updates on their clinical trial programmes.
CRISPR Therapeutics (NASDAQ: CRSP) and Vertex (NASDAQ: VRTX) presented new clinical data on their jointly developed investigational CRISPR-Cas9 treatments of sickle cell disease and transfusion-dependent beta-thalassemia. The data included 22 patients with a greater than three months follow-up after being treated with the CTX001 drug. All 22 patients in the Phase 1/2 trial had follow-up between 4 and 26 months after treatment and continued to show consistent and sustained response. After the presentation in the pre-market of June 11th, CRISPR Therapeutics stock rose by 5.83%, from $122.84 to $130.
Company data driving stock prices
Intellia Therapeutics with new transformational data in transthyretin amyloidosis
Intellia Therapeutics (NASDAQ: NTLA) presented new interim data on its ongoing Phase 1 study of NTLA-2001 for treating transthyretin amyloidosis. The data was presented at the 2021 Peripheral Nerve Society (PNS) annual meeting. On June 4th, the company disclosed that a late-breaking abstract featuring the data mentioned above had been selected for an oral presentation at PNS. In addition, the presentation included data on the company's ongoing dose-escalation study that showed the first-ever clinical data supporting the safety and efficacy of CRISPR gene editing in vivo in humans. Never before has clinical data been produced that indicate that CRISPR can be used to edit the genome of cells within the human body. With this data, the company demonstrated that a single dose treatment of its NTLA-2001 treatment caused a mean reduction of the levels of transthyretin of 87% in the body, with a maximum reduction of 96% 28 days after a single infusion. As a result, the company has seen a considerable increase in its share price between the 28th and 30th of June, with the share price going from $84.80 to $198.34, i.e., an increase of 134%.
This promising new data has also boosted the stock price of many other gene-editing companies such as CRISPR Therapeutics (NASDAQ: CRSP), Editas Medicine (NASDAQ: EDIT) and Beam Therapeutics, showing just how vital this data is to the industry as a whole. More on the new promising data can be found here.
Precision Biosciences present new data on its CAR-T programme
On June 4th, Precision Biosciences (NASDAQ: DTIL) reported updated Phase 1/2a data on 12 patients suffering from R/R non-Hodgkin lymphoma treated with its PBCAR0191 CAR-T cell therapy. The data showed that patients with a single dose treatment of PBCAR0191, following enhanced lymphodepletion, yielded an overall response rate of 75% and a complete response rate of 50% after 28 days. In addition, after four months, 5 out of 9 patients remained progression-free, and 4 out of 9 patients showed an ongoing response. The company also presented data on its preclinical study PBCAR19B, indicating that the therapeutic cells can evade rejection by recipient T cells and natural killer cells. Following the data release, the Precision Biosciences stock rose from $10.78 on June 4th and spiked on June 8th at $12.50.
New deals in the gene-editing space
Verve Therapeutics and Graphite Bio complete initial public offerings
Verve Therapeutics completed its initial public offering (IPO) on the NASDAQ under the ticker VERV to raise $306.7M at an initial price of $19 per share. The stock quickly rose during regular trading hours closing on June 17th at $31,92 per share, and has since been steadily increasing, peaking intraday at $69.63 on June 30th.
Likewise, Graphite Bio also completed an upsized IPO on the NASDAQ under the ticker GRPH on June 25th. The company raised $238M, which will support the development of its GPH101 Sickle cell disease programme and other preclinical programmes. The new stocks were offered at $17 per share, and just like the other CRISPR-related companies, the stock price has had substantial gains, peaking at $33 per share on June 30th.
The stock performances of Verve Therapeutics and Graphite Bio will be included in the CMN Markets graph from July 2021 and onwards.
CRISPR Therapeutics and Capsida Biotherapeutics to collaborate on genetic diseases
CRISPR Therapeutics and Capsida Biotherapeutics announced a strategic collaboration on June 15th. The companies will develop gene-edited therapies for amyotrophic lateral sclerosis (ALS) and Friedreich's ataxia. CRISPR Therapeutics will lead the research and development of the Friedreich's ataxia programme and perform gene-editing activities for both disease programmes. Read more about Friedreich's Ataxia here.
Meanwhile, Capsida Therapeutics will focus on the ALS programme as well as conducting capsid engineering. Capsida has developed a high-throughput adeno-associated virus (AAV) platform to develop advanced capsids that can target specific tissues while limiting off-target transduction. Both companies will equally share the costs associated with the development of the programme, and as such, will also benefit from the results equally. Interestingly, the stock dropped approximately $6 between the 14th and 15th of June, equating to a loss of 4.9%.
Intellia Therapeutics launches new CAR T company
Together with Blackstone Life Sciences and Cellex Cell Professionals, Intellia will establish a new company that will discover and develop novel universal allogeneic CAR T cells. Intellia will contribute with its CRISPR-Cas9 platform, while Cellex Cell Professionals will provide novel technology for switchable CAR T cells. Blackstone Life Sciences will contribute with $250M of initial funding. So far, Intellia has not been as engaged in the CAR T space as competitors such as CRISPR Therapeutics and Editas Medicine. However, it has some very early, yet undisclosed, programmes within oncology.
The new company remains nameless.
What to look out for in July
Compared to previous months, July looks like a fairly quiet month data-wise, as no major scientific or medical conferences are scheduled. Likewise, summer is often a period without any big announcements with respect to novel collaborations and mergers/acquisitions. Any market news or events that do happen during July will, of course, be mentioned in the next monthly edition of CMN Markets.
Disclaimer: None of the information given above should be considered investment advice. The authors or CRISPR Medicine News cannot be held accountable for any losses associated with investing in the companies discussed.
Tags
ArticleNewsCMN MarketsBlackstone Life SciencesCapsida BiotherapeuticsCellex Cell ProfessionalsAllogene Therapeutics, Inc.Beam Therapeutics Inc.Cellectis S.A.CRISPR Therapeutics AGEditas Medicine, Inc.Fate Therapeutics, Inc.Graphite Bio, Inc.Intellia Therapeutics, Inc.Precision BioSciences, Inc.Sangamo Therapeutics Inc.Verve Therapeutics, Inc.