CRISPR IND Updates: E. coli, Beta Thalassemia, and Solid Tumours
By:
Karen O'Hanlon Cohrt - Jan. 12, 2022
In 2021, we witnessed many firsts for CRISPR medicine including positive in vivo clinical data, emerging therapies in new disease areas and the first IND approval for a base editor. If the past few weeks are anything to go by, 2022 is already shaping up to be a busy year with three brand new IND approvals within infectious disease, solid cancer and blood disease.
SNIPR BIOME announces IND clearance for first E. coli targeting CRISPR therapy
Copenhagen-based SNIPR Biome announced yesterday that the FDA had issued IND clearance for SNIPR001, the company's most advanced development candidate in its pipeline of CRISPR-based microbiome therapies.
SNIPR001 is being developed for the treatment of potentially life-threatening E. coli infections in haematological cancer patients, i.e, individuals with cancer in the blood, bone marrow, or lymph nodes. These patients exhibit increased susceptibility to bloodstream infections as a result of disease and immune-compromising chemotherapy treatment, and are often treated pre-emptively with broad-spectrum antibiotics. Such treatments inherently target bacteria indiscriminately and thus contribute to the problem of antibiotic resistance.
SNIPR Biome is using CRISPR technology to develop next-generation antibiotics for precise targeting of difficult-to-treat bacterial infections as well as complex diseases that implicate the microbiome. The company has developed new methods to deliver its CRISPR reagents as CRISPR-Guided Vectors™ (CGV™ Technology) into target bacterial cells.
CGVs are designed to selectively eradicate target bacteria in a sequence-specific manner, and are delivered to target bacterial cells via engineered bacteriophages or through bacterial conjugation. Once inside target cells, CGVs assemble into Cas-RNA complexes that create double-stranded breaks in bacterial genomes, leading to ultra-rapid killing in a matter of minutes, allowing rapid response in acute settings.
SNIPR001 is designed to target certain E. coli bacteria in the gut and thus prevent their translocation to the bloodstream, without affecting beneficial bacteria in the microbiome. During a CMN CRISPR delivery webinar last year, Eric van der Helm, VP of Synthetic Biology & Bioinformatics at SNIPR Biome, told us that SNIPR001 is developed as an oral medication that contains four E. coli-targeting phages, with demonstrated efficacy in animal disease models.
Following IND approval, SNIPR Biome is now planning a clinical trial for SNIPR001 to be intiated in the first half of 2022. This trial will investigate the safety and tolerability of SNIPR001 in healthy volunteers, and investigate its efficacy against E. coli colonisation in the gut.
In a previous interview with SNIPR BIOME's CEO Christian Grøndahl, we heard about how SNIPR finds target genes and designs CRISPR arrays to target them.
Editas Medicine announces IND clearance for EDIT-301 for transfusion-dependent beta thalassemia
Editas Medicine plans to initiate a Phase 1/2 clinical trial in transfusion-dependent beta thalassemia (TDT) for EDIT-301 following recent IND approval by the FDA.
EDIT-301 is a patient-derived (autologous) CRISPR-Cas12a-edited cell therapy designed to compensate for the lack of adult haemoglobin in beta thalassemia through reactivation of foetal haemoglobin (HbF) expression. The candidate is developed using CRISPR-Cas12a ribonucleoprotein to enhance the HBG1/2 promoter region in the beta-globin locus of patient-derived blood stem cells, a strategy that mimics the hereditary persistence of foetal haemoglobin that is observed in some individuals.
EDIT-301 is already being assessed for the treatment of severe sickle cell disease in the RUBY Phase 1/2 trial in 40 adult participants between the ages of 18 and 50 years.
The company is now planning a second Phase 1/2 trial to assess the safety, tolerability, and preliminary efficacy of EDIT-301 as a one-time treatment for TDT.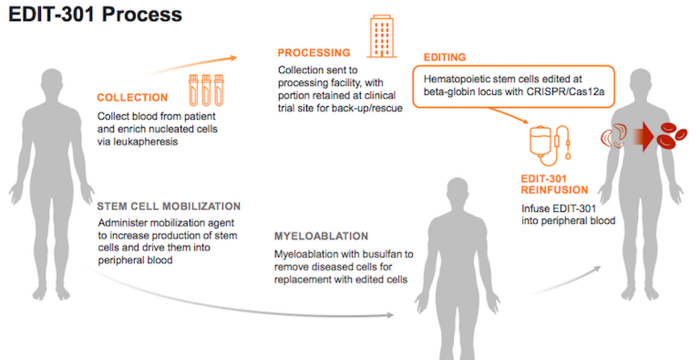 Poseida Therapeutics gets IND approval for solid tumour CAR-T candidate MUC1C-ALLO1
San Diego-based Poseida Therapeutics announced in December that the FDA had approved its IND application for P-MUC1C-ALLO1, an allogeneic CAR-T candidate designed to treat solid tumour cancers.
P-MUC1C-ALLO1 is developed as a pan-specific therapy to target solid tumours derived from epithelial cells that express a cancer-specific form of the Mucin 1 protein (MUC1C). Targets include breast, colorectal, lung, ovarian, pancreatic, renal cancers, and others.
P-MUC1C-ALLO1 is generated using healthy donor cells, and is engineered to be fully-allogeneic using Poseida's piggyBac DNA delivery system and Cas-CLOVER gene-editing system to knockout both the T cell receptor and MHC class I proteins. These edits are performed to mitigate the risk of host-vs-graft and graft-vs-host alloreactivity. You can read more about Poseida's technology in our interview with then CEO Eric Ostertag from last year.
At the Society for Immunotherapy of Cancer Annual Meeting in November 2021, Poseida revealed pre-clinical data for P-MUC1C-ALLO1 demonstrating specificity for tumour vs. healthy cells (i.e. minimal toxicity), as well as elimination of tumour cells to undetectable levels in pre-clinical xenograft models of triple-negative breast and ovarian cancer.
According to a company press release, P-MUC1C-ALLO1 will be evaluated for safety and preliminary efficacy in a Phase 1 multi-center, open-label, dose escalation study in eligible adults with advanced or metastatic epithelial-derived solid tumours. Participants will receive a dose of P-MUC1C-ALLO1 allogeneic CAR-T cells following a standard chemotherapy-based conditioning regimen. The company aims to present initial clinical data later this year.
We will provide further details on these three upcoming clinical trials as they emerge.
You can find all our previous news articles about IND approvals and clinical trials here. For a complete overview of CRISPR IND approvals and ongoing gene-editing trials, check out CRISPR Medicine News' Clinical Trials Database.
To get more of the CRISPR Medicine News delivered to your inbox, sign up to the free weekly CMN Newsletter here.
Tags
ArticleNewsClinical News UpdatesRibonucleoprotein (RNP)CancerInfectious diseaseMultiple Solid Tumor AdultSolid Tumor AdultSolid TumoursTransfusion Dependent Beta-Thalassemia, TDTBacterial InfectionBlood diseaseCancerCAR-TCas-CLOVERCRISPR-CasCas12aCas9piggyBacEditas Medicine, Inc.Poseida TherapeuticsSNIPR BiomeTrialsIND - Investigational New Drug