Investigational New Drug (IND) Update – Sickle Cell Disease
By:
Karen O'Hanlon Cohrt - Jan. 13, 2021
Sickle cell disease is a group of disorders characterised by defective adult haemoglobin function. These diseases arise from a single point mutation in the 6th codon of the beta-globin gene (HBB), which results in a valine instead of a glutamic acid in the haemoglobin beta-chain. This leads to polymerisation of the so-called sickle haemoglobin protein (HbS), resulting in a spectrum of symptoms ranging from mild anaemia to severe and life-threatening disease.
Gene-Editing Approaches to Sickle Cell Disease
A number of experimental gene-editing therapies are already in clinical development for SCD. These are all based on the use of gene editing to restore the expression of foetal haemoglobin (HbF), which is highly expressed and critical during foetal development, and is then rapidly suppressed early in life.
Reactivation of HbF expression is an attractive strategy to treat SCD because it can compensate for the lack of functional adult haemoglobin by harnessing the inherent genetic ability to produce HbF.
So far, no gene-editing therapies aimed at correcting the underlying mutation in SCD have entered clinical development.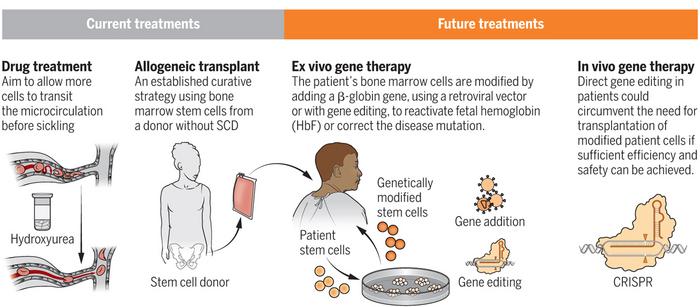 EDIT-301: CRISPR-Based Restoration of Foetal Haemoglobin Expression
EDIT-301 is being developed by Editas Medicine (US) as an ex vivo one-time autologous (patient-derived) treatment for SCD, and just two days ago the company announced that the American Food and Drug Administration (FDA) had given the green light for the first clinical trial.
The new therapy is developed using a CRISPR-Cas12a ribonucleoprotein to enhance the HBG1/2 promoter region in the beta-globin locus of patient-derived haematopoietic stem cells (HPSCs). Naturally-occurring HbF-inducing mutations at the HBG1/2 region support the clinical relevance of using gene editing to enhance the HBG1/2 promoter, which leads to an increase in the red blood cell levels of HbF.
Editas presented data at the 25th European Hematology Association meeting last summer demonstrating that red blood cells derived from EDIT-301 HSPCs exhibit a sustained in vivo increase in HbF in animal models.
In August 2020, Editas obtained Rare Pediatric Disease Designation For EDIT-301 as a potentially best-in-class treatment for SCD in children from birth to 18 years.
EDIT-301 is the first experimental medicine in development using CRISPR-Cas12a gene editing, and Editas is now preparing to initiate the first clinical trial. The planned Phase 1/2 trial, called RUBY, will assess the safety and efficacy of EDIT-301 following a single administration in patients with severe SCD. However, before it can proceed with enrolling patients, the company must resolve a partial clinical hold and submit an improved potency assay to the FDA, according to a company press release on Editas' website.
GPH101 - CRISPR-Cas9 Correction of Sickle Cell Disease Mutation
Graphite Bio, US, a spinout of Stanford University obtained FDA clearance last month for its lead CRISPR therapy candidate GPH101 to advance to clinical trials for severe SCD.
GPH101 is the first experimental therapy to correct the HBB point mutation, and it is anticipated to provide a permanent cure by targeting the root cause of disease and restoring completely normally-functioning red blood cells. The therapy is engineered using patient-derived HSPCs that are edited utilising Cas9-sgRNA gene-editing machinery and a DNA repair template, in a mechanism that essentially cuts the mutation out of the genome and replaces it with the correct sequence. Cas9-sgRNA is delivered through ribonucleoprotein protein (RNP) complexes while corrected DNA template delivery is achieved through an adeno-associated virus 6 (AAV6) vector.

In a presentation at the 39th Annual J.P. Morgan Healthcare Conference, Graphite Bio demonstrated curative gene correction with its CRISPR approach at GMP (good manufacturing practice) clinical scale.
A research report co-authored by Matthew Porteus MD PhD, of The California Institute for Regenerative Medicine and Stanford University, who has overseen the preclinical manufacturing and FDA-required safety studies for GPH101, demonstrated that AAV-mediated CRISPR-Cas9 correction of the HBB mutation improved SCD symptoms in a humanised mouse model for the disease.
The new therapy will be assessed in CEDAR, a Phase 1/2 multi-center, open-label study to evaluate the safety, efficacy and pharmacodynamics of GPH101 in adult and adolescents with severe SCD.
For a complete overview of current gene editing clinical trials, check out CRISPR Medicine News' Clinical Trials Database.
Tags
Articleex-vivoSickle Cell Disease, SCDGene therapyCas12aCas9Editas Medicine, Inc.Graphite Bio, Inc.TrialsIND - Investigational New Drug