Latest Gene Editing Clinical Trial
By:
Rasmus Kragh Jakobsen - Aug. 31, 2020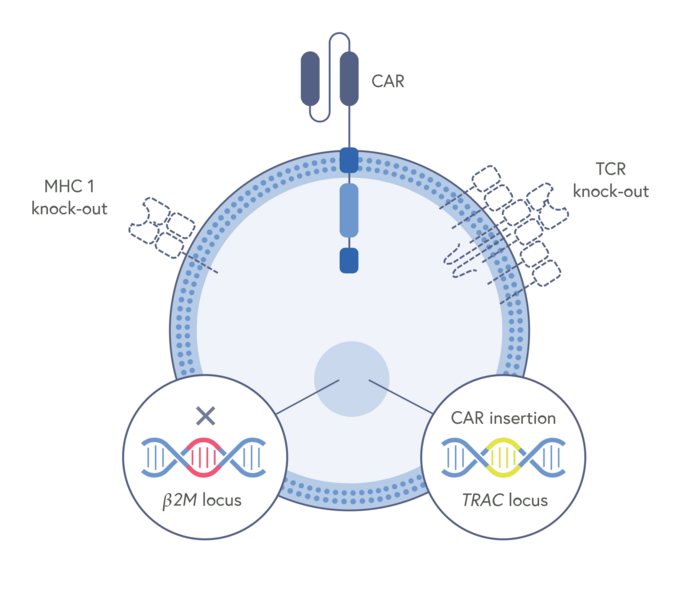 Here is the latest update of current clinical trials involving gene editing.
One new cancer immunotherapy trial by CRISPR Therapeutics using CRISPR edited off-the-shelf CAR-T cells to treat patients with relapsed or refractory T or B cell malignancies.
It's second from CRISPR Therapeutics using their allogeneic CAR-T product called CTX130, which is designed to target CD70, an antigen expressed on both hematologic cancers, including certain lymphomas, and solid tumours, including renal cell carcinoma.
The other CTX130 clinical study is an investigational therapy for patients with relapsed or refractory renal cell carcinoma, and both marks a transition from targetting haematologic to solid tumours.
Both studies are phase 1 studies evaluating safety and efficacy, and both are actively recruiting patients at several sites in the US (up to 45 and 95 patients, respectively).
Here is how it works.
Inserting the CAR with CRISPR
The gene-editing tool used is CRISPR-Cas9, and the gene editing is done ex vivo. CTX130 is comprised of T cells derived from healthy donors and modified genetically in three ways to allow CAR-T cells to be used off-the-shelf.
First, the chimeric antigen receptor (CAR) that allows the CAR-T cells to target and kill the cancer cells. A CAR has two key domains: One that binds to an antigen (CD70 in this case) on the surface of cancer cells and another that activates the T cell. In CTX130, CRISPR-Cas9 is used to insert the anti-CD70 CAR construct precisely into the TCR alpha constant (TRAC) locus. Using CRISPR-Cas9 to insert the CAR directly rather than using integrating viruses to insert the CAR construct in the T cell DNA is expected to result in a safer, more consistent product compared.
Avoid graft versus host disease and gain persistence
The second CRISPR-Cas9 edit is made to avoid the donor T cells attacking the patients own cells in unwanted side effect known as graft versus host disease (GvHD). T cells use the T cell receptor (TCR) to recognize and kill cells presenting foreign antigens (a sign of infection), thereby providing immunity from disease. Donor T cells could also recognize a patient's cells as foreign through this receptor, and to avoid the risk of GvHD CTX130 uses CRISPR-Cas9 to eliminate the TCR.
The last edit is made to avoid the host T cells eliminating the CAR-T product. This is expected to improve the CAR-T cell persistence and increase the chance for durable remissions. CTX130 uses CRISPR-Cas9 to eliminate the class I major histocompatibility complex (MHC I) expressed on the surface of the CAR-T product candidate. If present, MHC I could lead to rejection of the CAR-T product by the patient's own T cells. Eliminating this molecule should mitigate that effect.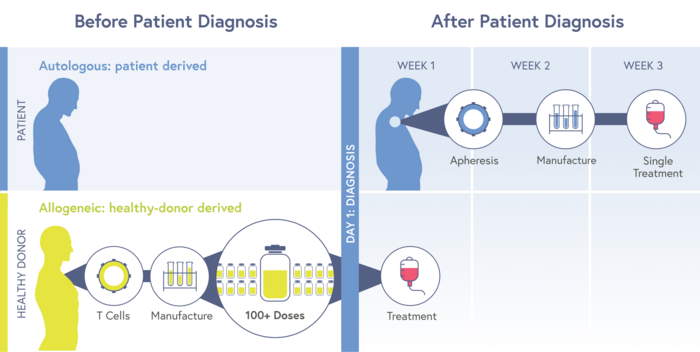 Potential advantages of allogeneic CAR-T cell therapies
The allogeneic (off-the-shelf) CTX130 represents a promising novel strategy to cancer immunotherapy, that if successful would have several advantages compared to current autologous (patient-derived) CAR-T cell therapies. These include the speed with immediate administration rather than having to wait several weeks on manufacturing patient-derived. Also, potentially greater potency because the starting material is derived from healthy donors compared to cancer patients, who sometimes have precious few T cells.
Tags