CMN Markets December 2021 | CRISPR Stocks and Market News
By:
Lasse Vedel Jørgensen and Mikkel Reincke Kristensen - Jan. 6, 2022
The CMN Markets Newsletter will bring you the latest news updates from the stock markets with focus on companies that have clinical-stage programmes involving a gene-editing tool like CRISPR.
Highlights
In the December edition we have summarised the biggest winners and losers on the stock market in 2021
Several gene-editing companies provide promising data at the American Society of Hematology (ASH) annual meeting. Read our ASH meeting highlights here.
Intellia Therapeutics doses first patient in its NTLA-2002 trial for hereditary angioedema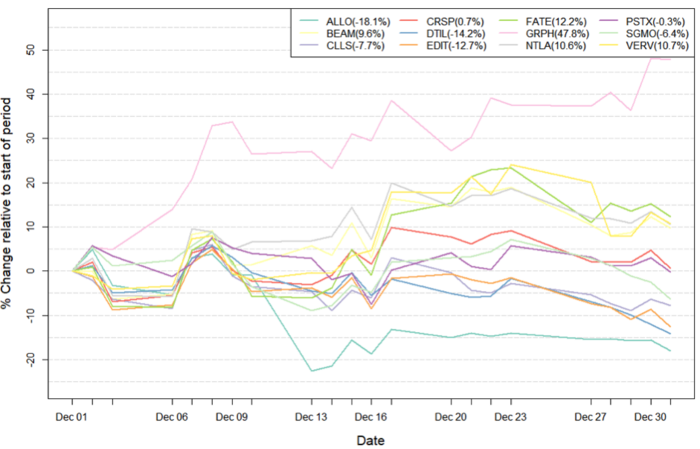 Figure 1: Data on stock performance shown from December 1st 2021 to January 1st 2021. Data from Yahoo Finance. Companies: CRISPR Therapeutics (CRSP), Allogene Therapeutics (ALLO), Sangamo Therapeutics (SGMO), Editas Medicine (EDIT), Precision Biosciences (DTIL), Cellectis (CLLS), Intellia Therapeutics (NTLA), Fate Therapeutics (FATE), Beam Therapeutics (BEAM), Verve Therapeutics (VERV), Graphite Bio (GRPH), Poseida Therapeutics (PSTX).
Influences from the broader economic trends
December was a volatile month, ending the 2021 trading year with a bang. Intramonth, the stock market dropped in anticipation of the Federal Reserve decision on the speed of its quantitative easing and interest rate increases in 2022. Wolfe Research strategist Chris Senyek spoke on the matter in a note, saying »[We] expect the Fed to end its tapering programme in March/April and start hiking in May [...] However, if his tone is overly hawkish, it could turn into a disaster like December 2018«. However, after the Federal Reserve announced that its easing would fall in line with expectations the market rose, reaching new all time highs. Additionally, the emerging Omicron SARS-CoV-2 variant impacted the stock market on several occasions, as noted by Jim Reid, strategist at Deutsche Bank: »Omicron is one of the biggest issues for markets right now because it has clouded the outlook moving into year-end«. Still, the major indices ended the month on a high note, with the S&P 500 reaching all time highs.
Data influencing stock movements
Editas Medicine reports new positive pre-clinical data and announces FDA clearance for EDIT-301
On the 12th of December, Editas Medicine (NASDAQ:EDIT) reported pre-clinical data on its induced pluripotent stem cells (iPSCs) platform. More specifically, the company demonstrated that its AsCas12a-edited induced natural killer (iNK) cells showed promising tumour killing capability. Editas is evaluating two preclinical strategies using iNK cells and the company reported that both of these approaches reduced tumour burden.
On the 20th of December, the company announced that the U.S. Food and Drug Administration (FDA) had cleared an Investigational New Drug (IND) application for EDIT-301, which is a candidate for the treatment of transfusion-dependent beta thalassemia. The company expects to initiate a Phase 1/2 trial in 2022.
Poseida Therapeutics receives FDA clearance and presents encouraging data
On December 12thPoseida Therapeutics (NASDAQ:PSTX) announced FDA clearance for its IND application for a fully allogeneic P-MUC1C-ALLO1-targeting CAR T therapy for solid tumours. P-MUC1C-ALLO1 is the first candidate to be produced in Poseida's new GMP facility.
Poseida also reported encouraging results on its CAR T clinical trials at the 2021 ASH Annual Meeting. Data showed that the non-viral transposon-based autologous CAR T candidate P-BCMA-101 had an overall response rate of 78% when combined with rituximab, and an overall survival rate of 100% in relapsed/refractory multiple myeloma (MM) at the time of data-cutoff. The data also showed good safety profiles for patients treated with the new CAR T candidate.
Allogene presents promising data at ASH annual meeting
Allogene Therapeutics (Nasdaq:ALLO) presented data on several programmes on December 13th at the ASH annual meeting. The company presented positive results from its Phase 1 study on single dose administration of its ALLO-715 therapy for relapsed or refractory MM. The data showed that the treatment was well tolerated among patients, showing no graft-versus-host disease and manageable cytokine release syndrome.
The company also presented Phase 1 data for its ALLO-501 and ALLO-501A programmes. Allogene reported that CAR-T naive patients were relapse-free 6 months after achieving complete response with its ALLO-501 in large B Cell lymphoma.
Intellia Therapeutics reports first patient dosed with NTLA-2002
On December 13thIntellia Therapeutics (NASDAQ:NTLA) reported that it had dosed the first patient with its NTLA-2002 drug candidate in a Phase 1/2 clinical trial for hereditary angioedema (HEA). NTLA is an in vivo CRISPR-Cas9 candidate designed to reduce the inflammation associated with HEA by disruption the kallikrein B1 gene. You can read more about the therapeutic strategy behind NTLA-2002 here.
The highs and lows of 2021
2021 has been a tumultuous year for stocks in general, but especially for speculative growth stocks such as biotechs. For most of the year, inflation loomed over the stock market, leading to major swings in single stocks as well as the major indices. Notably, the NASDAQ Biotechnology index (NBI) ended flat, losing about two points in the year. However, despite the volatility, major indices such as the S&P 500, NASDAQ Composite and Dow Jones Industrial Average ended the year up by approximately 28%, 23% and 20% respectively. This contrast in year-over-year difference between the major indices and biotech highlights the extent to which some groups of stocks were impacted in 2021.
Highly volatile markets are treasured by some risk-willing investors, as they can lead to major gains. On the flip side, however, volatility can also lead to major losses. 2021 has both brought great increases and decreases in stock prices of the CMN markets companies, and we have compiled some of the biggest winners and losers within this group on the stock market in 2021.
The biggest winner in 2021 is undoubtedly Intellia Therapeutics. Investors that bought the stock on January 4th 2021 were up by 113% by the end of 2021, more than doubling their initial investment. Had these investors sold at the peak of the stock's price in June, they would have been up 220%. This rise was spurred by the company's data release on the first in vivo CRISPR based therapy, covered here.
The biggest loser in 2021 turns out to be Cellectis. Investors who bought Cellectis stock on the 4th of January would be down 70.5% by the end of the year, losing almost three quarters of their initial investment. The main reason for this is a clinical hold that was put on Allogene Therapeutics' allogeneic CAR-T programmes that are currently being tested in clinical trials. These programmes rely on Cellectis' proprietary TALENs for the knock-out of multiple different targets.
Cellectis is not the only company whose stock nosedived in 2021. CRISPR Therapeutics and Allogene Therapeutics were down by 50% on the year, and Editas was down 62%.
Many new companies emerged in 2021. At CRISPR Medicine News, we have collected a database of all these companies, which you can find here.
What to look out for in January and the year 2022
The 40th Annual J.P. Morgan Healthcare Conference, held virtually, will bring presentations from several companies featured on CMN Markets. This includes Editas Medicine, Beam Therapeutics and Allogene Therapeutics. Any prominent data releases that emerge from this event will be featured in the January edition of the CMN Markets newsletter.
In the general markets, 2022 is now confirmed to be the year that the Federal Reserve starts to increase interest rates, which is likely to impact high growth stocks and companies reliant on loans, and it will be interesting to see how the markets respond when these rate increases are implemented. Naturally, you will be able to read about these developments in the CMN Markets we release throughout 2021.
Disclaimer: None of the information given above should be considered investment advice. The authors or CRISPR Medicine News cannot be held accountable for any losses associated with investing in the companies discussed.
Tags
ArticleNewsCMN MarketsCancerHereditary angioedema, HAEMultiple Myeloma, MMSolid Tumor AdultSolid TumoursCAR-TAllogene Therapeutics, Inc.Beam Therapeutics Inc.Cellectis S.A.CRISPR Therapeutics AGEditas Medicine, Inc.Fate Therapeutics, Inc.Graphite Bio, Inc.Intellia Therapeutics, Inc.Poseida TherapeuticsPrecision BioSciences, Inc.Sangamo Therapeutics Inc.Verve Therapeutics, Inc.